Our readers support us. This post may contain affiliate links. We earn from qualifying purchases. Learn More
The kitchen is often considered the heart of the home, and its design plays a crucial role in creating a welcoming and aesthetically pleasing space. One design trend that has gained popularity in recent years is dark kitchen cabinets. Rich, deep-colored cabinets can add a touch of elegance and sophistication to your kitchen.
However, choosing the right flooring to complement dark kitchen cabinets is essential to achieve a harmonious and balanced look. Light Hardwood Floors offer a crisp contrast to dark kitchen cabinets, brightening the space. Beige Tiles harmonize seamlessly, providing a subdued warmth that complements the cabinetry's richness.
The patterned allure of Light Chevron Hardwood introduces a dynamic touch, skillfully juxtaposing the depth of dark cabinets while amplifying the room's aesthetic appeal.
In this article, we'll explore the best floor colors and types that work well with dark kitchen cabinets.
12. Checkered Tiles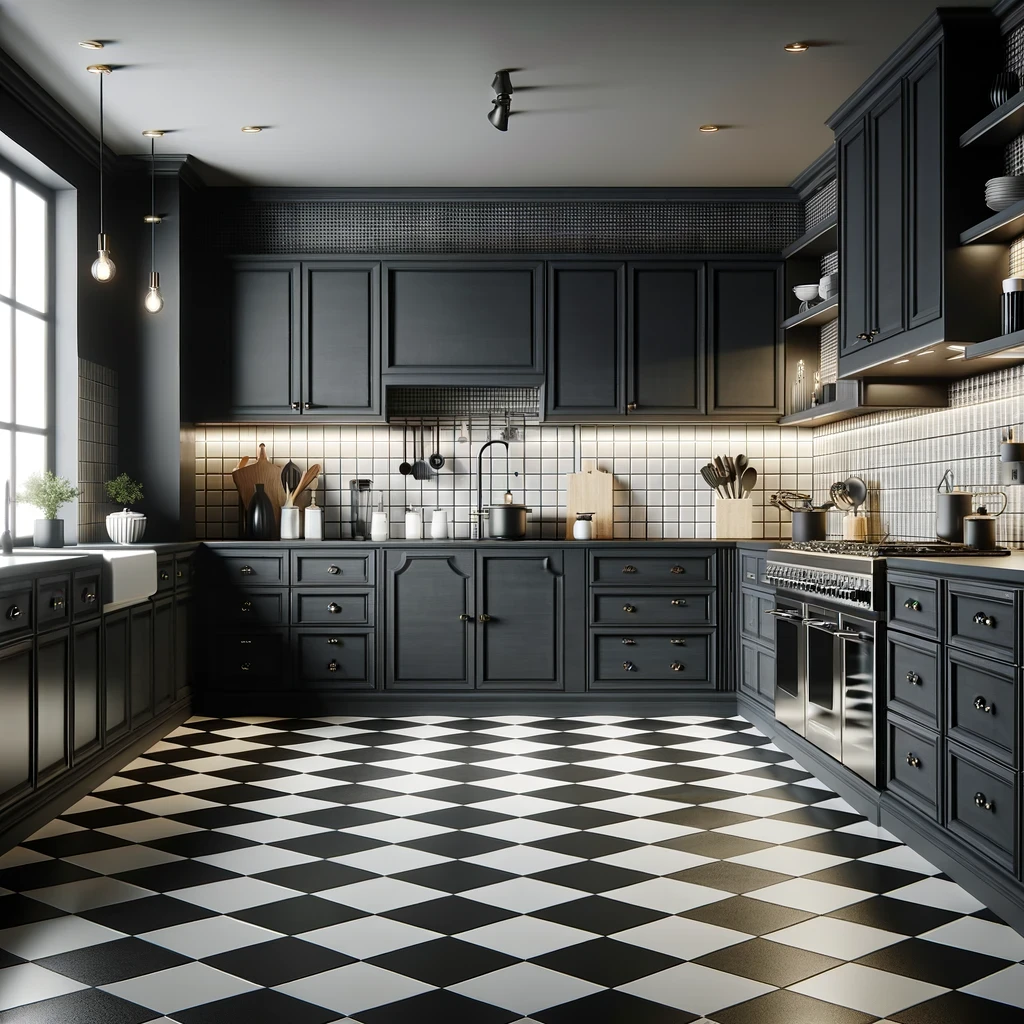 Checkered tiles can be a striking and bold choice when paired with dark kitchen cabinets.
This combination creates a visually appealing contrast and can add a sense of drama and personality to your kitchen design.
Tip: Try an All Black Kitchen to Minimise Visual Clutter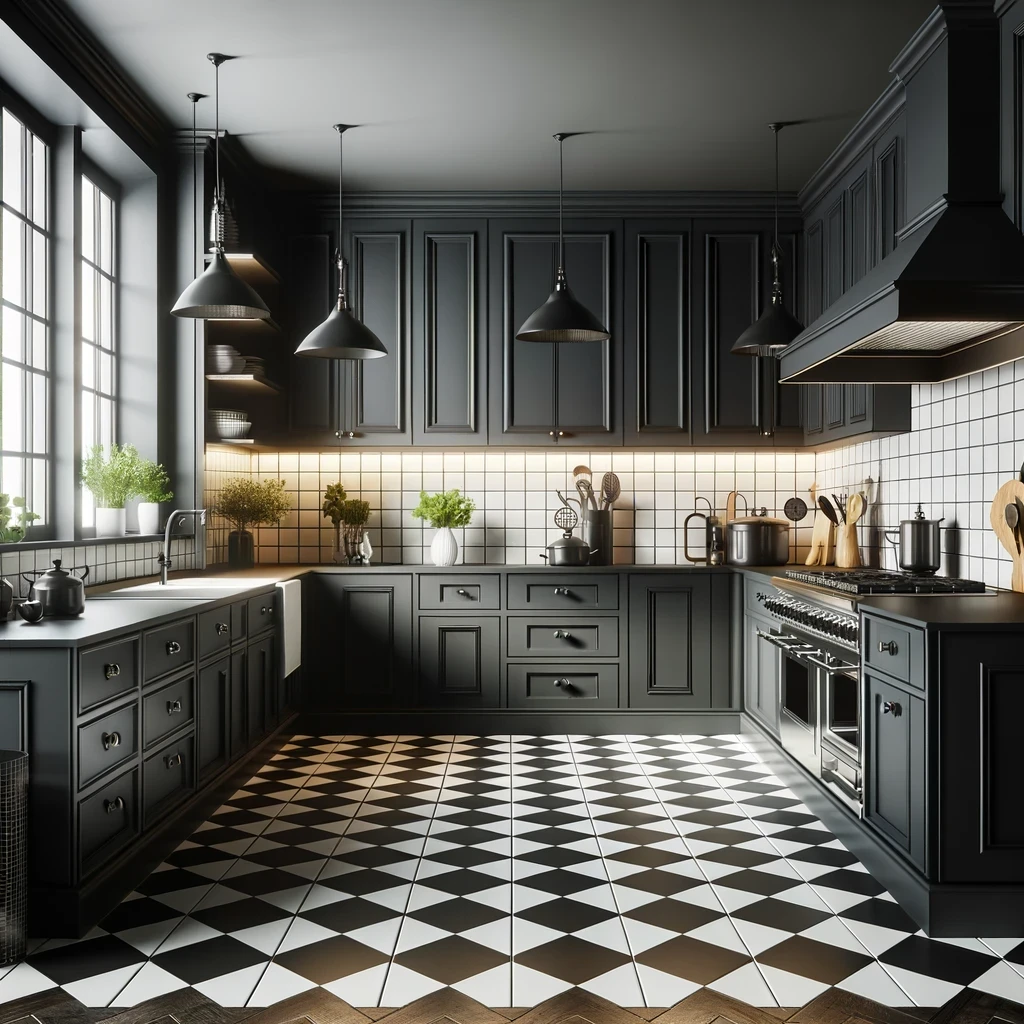 Checkered patterns have a classic and timeless appeal. They have been used in kitchen design for decades and can work well with various kitchen styles, from traditional to retro and contemporary.
While checkered tiles can make a strong statement, it's important to strike a balance in the overall design.
To avoid overwhelming the space, you may want to keep other elements, such as countertops and wall colors, relatively neutral or complementary to the tiles and cabinets.
The size of the checkered pattern can affect the kitchen's overall look. Larger checkered tiles can create a more modern and bold appearance, while smaller tiles can evoke a classic and retro feel. Consider the scale of the tiles in relation to the size of your kitchen.
11. Beige Tiles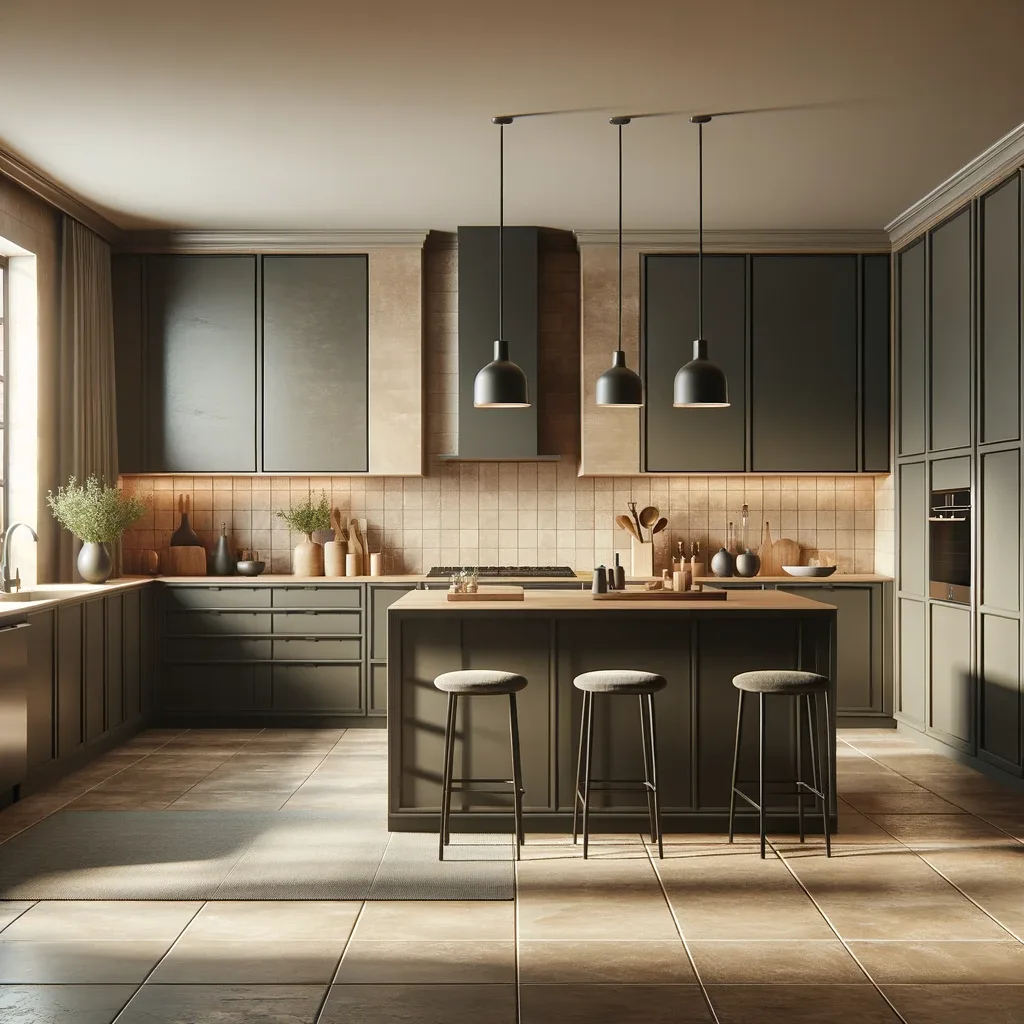 If you prefer a more modern and sleek look, beige tiles are a fantastic option.
Porcelain or ceramic tiles in these shades can provide a clean and sophisticated backdrop for your dark cabinets.
Tip: Make a Bold Fancy Statement with Glossy Beige Tiles
The reflective surface of tiles can help bounce light around the room, making the space feel more open and airy.
Additionally, tiles are easy to clean and maintain, making them a practical choice for kitchens.
10. Muted Brown Hardwood
Embrace the drama of dark kitchen cabinets by pairing them with dark wood floors.
This monochromatic look can create a bold and striking aesthetic.
Tip: Use this Dark and Dramatic Combination if You Have Large Windows in Your Kitchen
Muted brown floors, such as walnut or espresso-stained hardwood, can add depth and sophistication to your kitchen.
To prevent the space from feeling too dark, balance it with plenty of natural light. If you prefer an ultra-dramatic effect avoid lighter-colored countertops or backsplashes.
9. Black and White Mosaic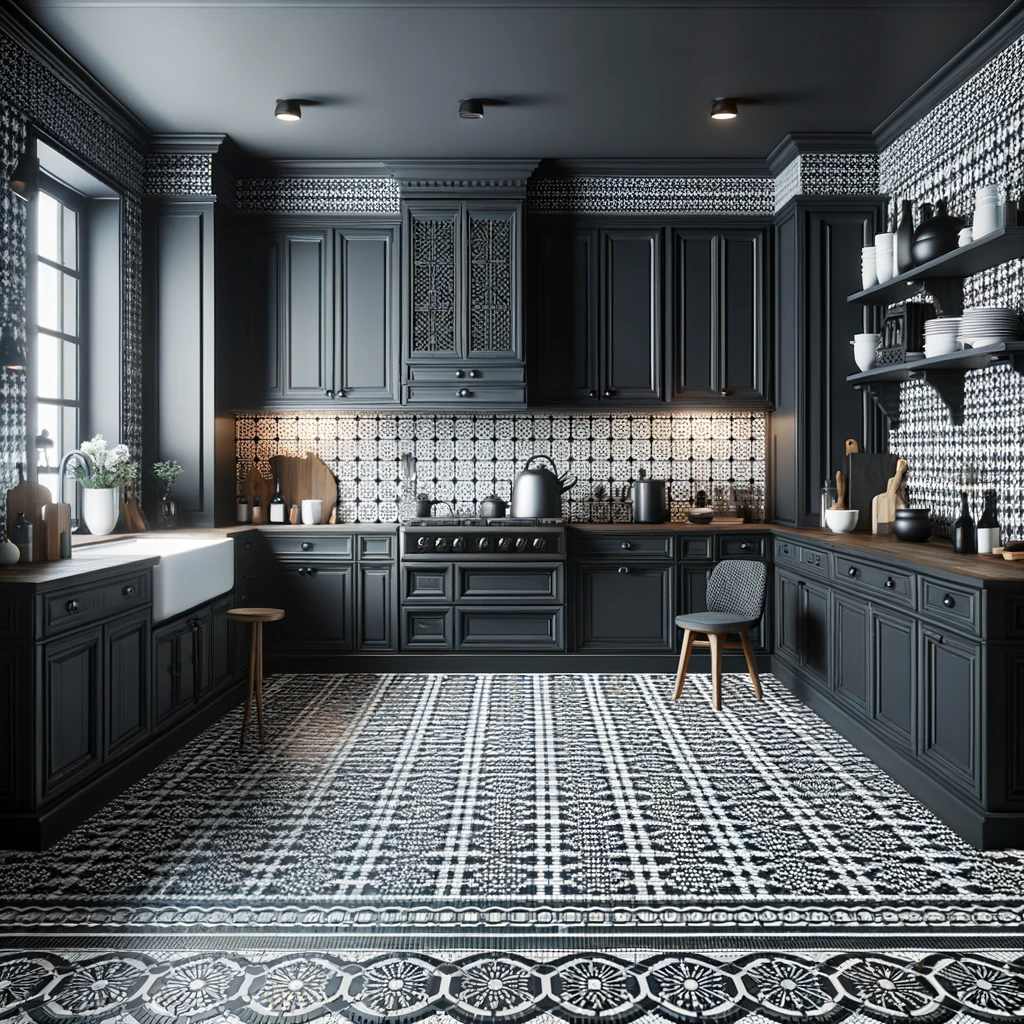 Black and white mosaic tile floors can create a striking and dramatic effect when paired with dark kitchen cabinets.
This bold design choice can result in a visually stunning and high-contrast kitchen.
Tip: Make Your Kitchen Glow with Vintage Charm Through Black and White Wallpaper
Mosaic tiles come in a wide range of patterns and designs. You can choose from simple geometric patterns to intricate and artistic layouts.
The pattern you select can significantly impact the kitchen's overall look and feel.
When working with such a bold flooring choice, it's important to carefully coordinate other elements in the kitchen.
Consider selecting cabinet hardware, countertops, and wall colors that complement the black-and-white theme.
8. White Linoleum
White linoleum floors can create a clean, bright, and modern look when paired with dark kitchen cabinets.
This combination offers practicality, ease of maintenance, and a versatile design option for your kitchen space.
Be sure to consider factors like texture, patterns, and the overall coordination of your kitchen decor to ensure that the white linoleum enhances the overall design.
When chosen thoughtfully, this combination can result in a kitchen that is both functional and visually appealing.
Tip: Add Richness to Your White Linoleum Floors with Patterns
White linoleum floors create a sense of cleanliness and brightness in your kitchen. The stark contrast between the white flooring and dark cabinets can make the space feel open and airy.
It's an excellent choice if you want to maximize the perception of light in your kitchen.
Linoleum has a reflective surface that can help bounce light around the room, making it appear larger and more inviting. This feature is especially valuable in kitchens with limited natural light sources.
7. Light Chevron Hardwood
Light chevron hardwood floors can add a touch of elegance and sophistication to a dark kitchen, creating a striking contrast that can make your space feel both timeless and visually captivating.
Tip: Mimic the Pattern of the Floors on the Backsplash for an Elegant and Cohesive Design
Chevron patterns have a timeless and classic appeal that can work well with various kitchen styles. They are equally suitable for traditional, transitional, and modern kitchens, making them a versatile choice.
Chevron hardwood floors add texture and dimension to your kitchen design. The pattern can visually elongate the space and make it feel more spacious, which is particularly beneficial in smaller kitchens.
Light chevron floors provide a neutral canvas that allows for versatile color coordination. You can experiment with different cabinet finishes, countertop materials, and wall colors to achieve the desired aesthetic.
6. Polished Concrete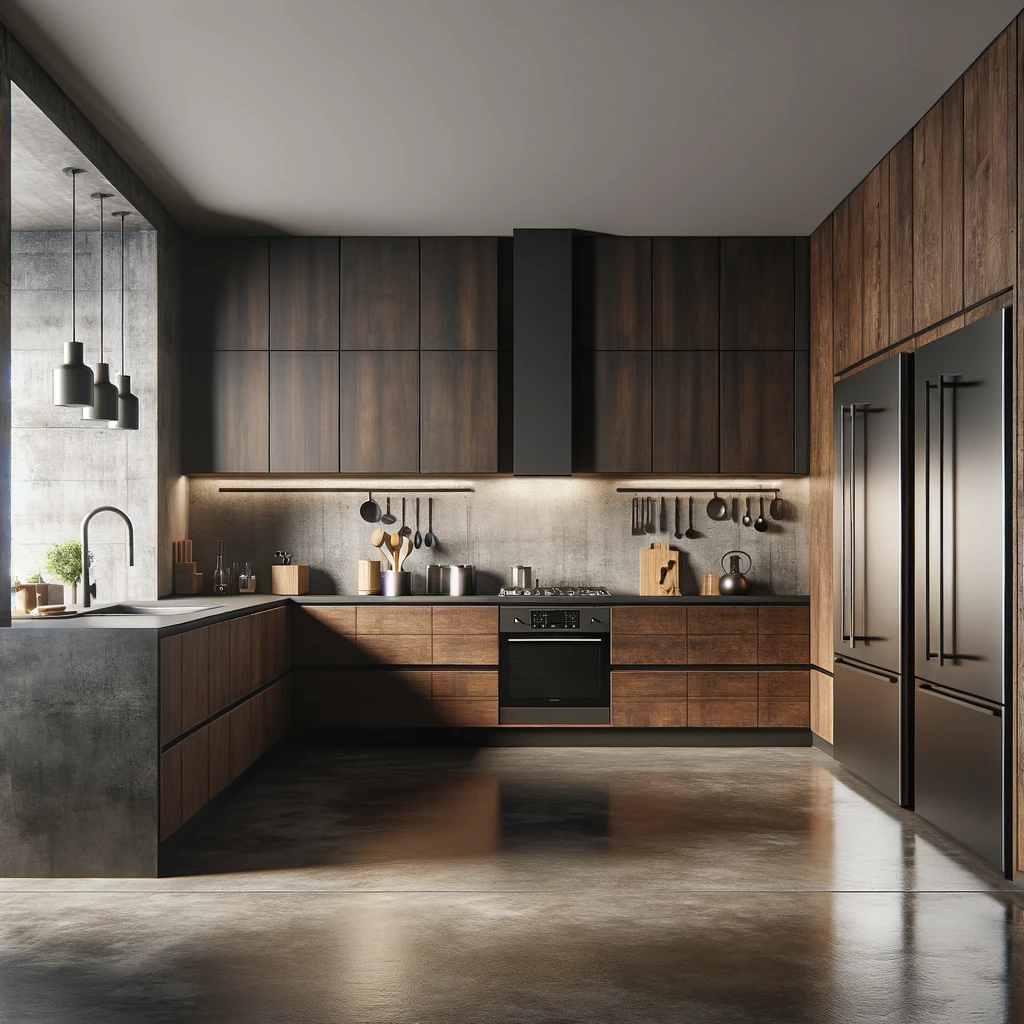 For a luxurious and upscale feel, consider polished concrete.
This material offers a timeless beauty and durability that can enhance the elegance of dark kitchen cabinets.
Tip: Try a Brown on Brown Combination for a Warm Earthy Feel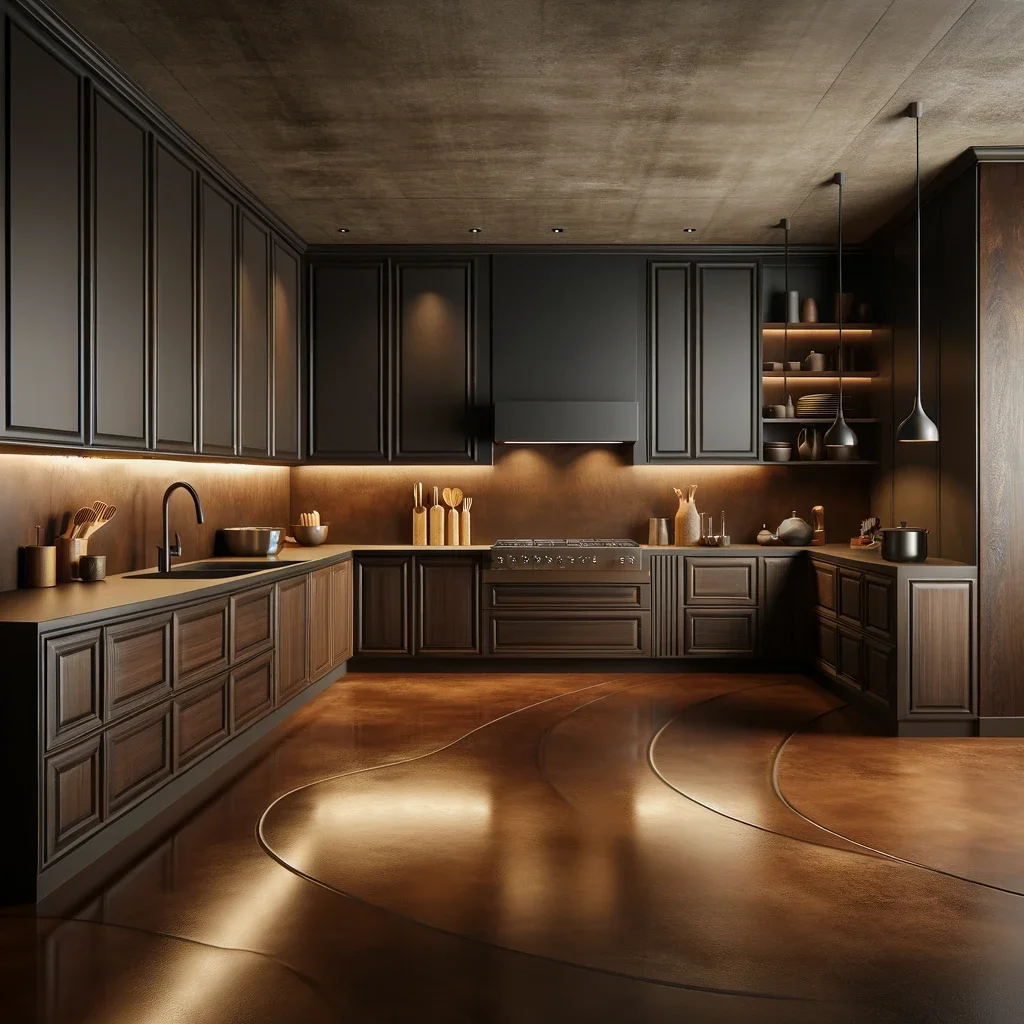 The variety of colors available for polished concrete allows you to choose a flooring option that complements your cabinet's color and style.
Keep in mind that polished concrete can be more expensive than other options and may require periodic maintenance.
5. Charcoal Tiles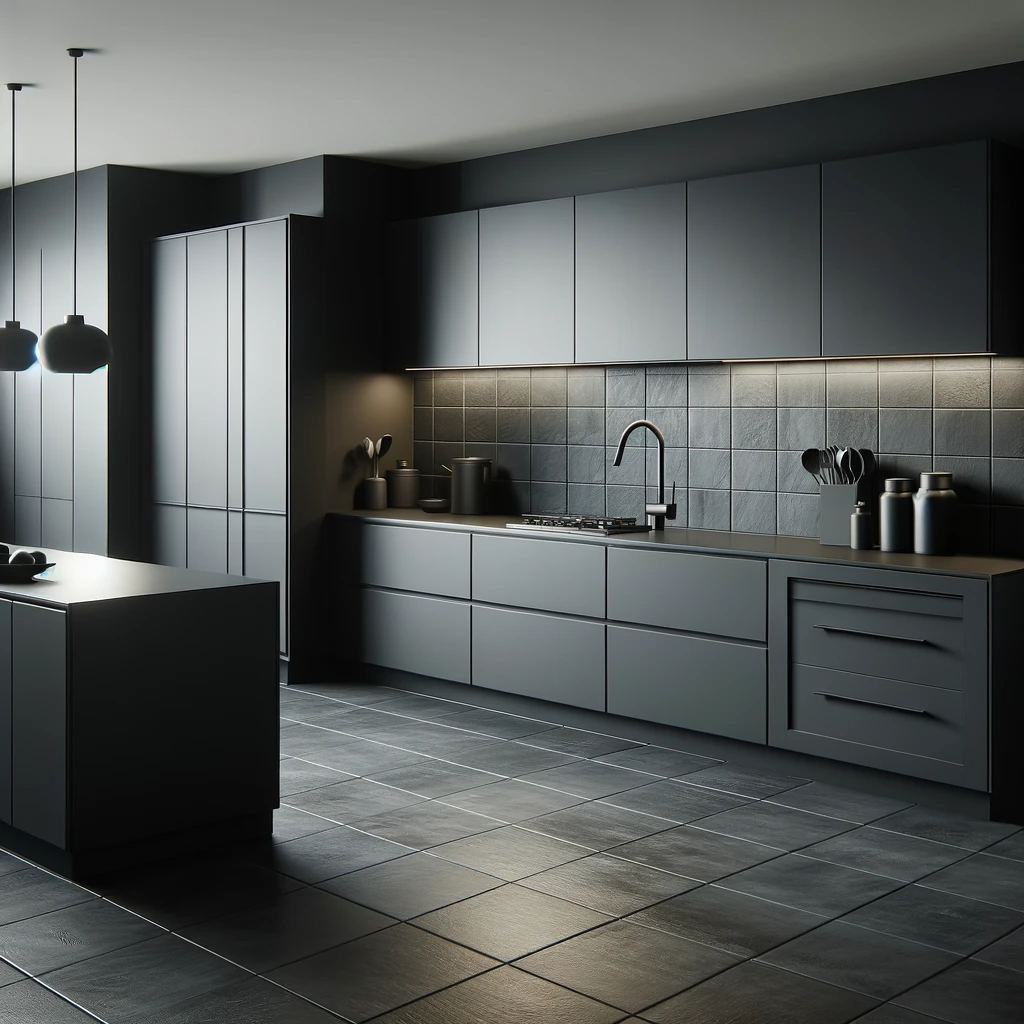 Charcoal tiles provide a subtle contrast to dark kitchen cabinets, creating a sense of depth and visual interest without overwhelming the space.
This balance can add dimension and elegance to your kitchen design.
Tip: Experiment with Matte Charcoal Tiled Floors and Dark Navy Cabinets for a Dramatic Vibe
Tiled floors offer a wide range of textures and patterns, allowing you to customize the look of your kitchen.
Matte or textured charcoal tiles can add character and warmth, while large-format tiles can create a seamless and modern appearance.
Tiled floors, especially ceramic or porcelain tiles, are highly durable and resistant to wear, stains, and moisture. This durability makes them ideal for a high-traffic area like the kitchen.
4. White Laminate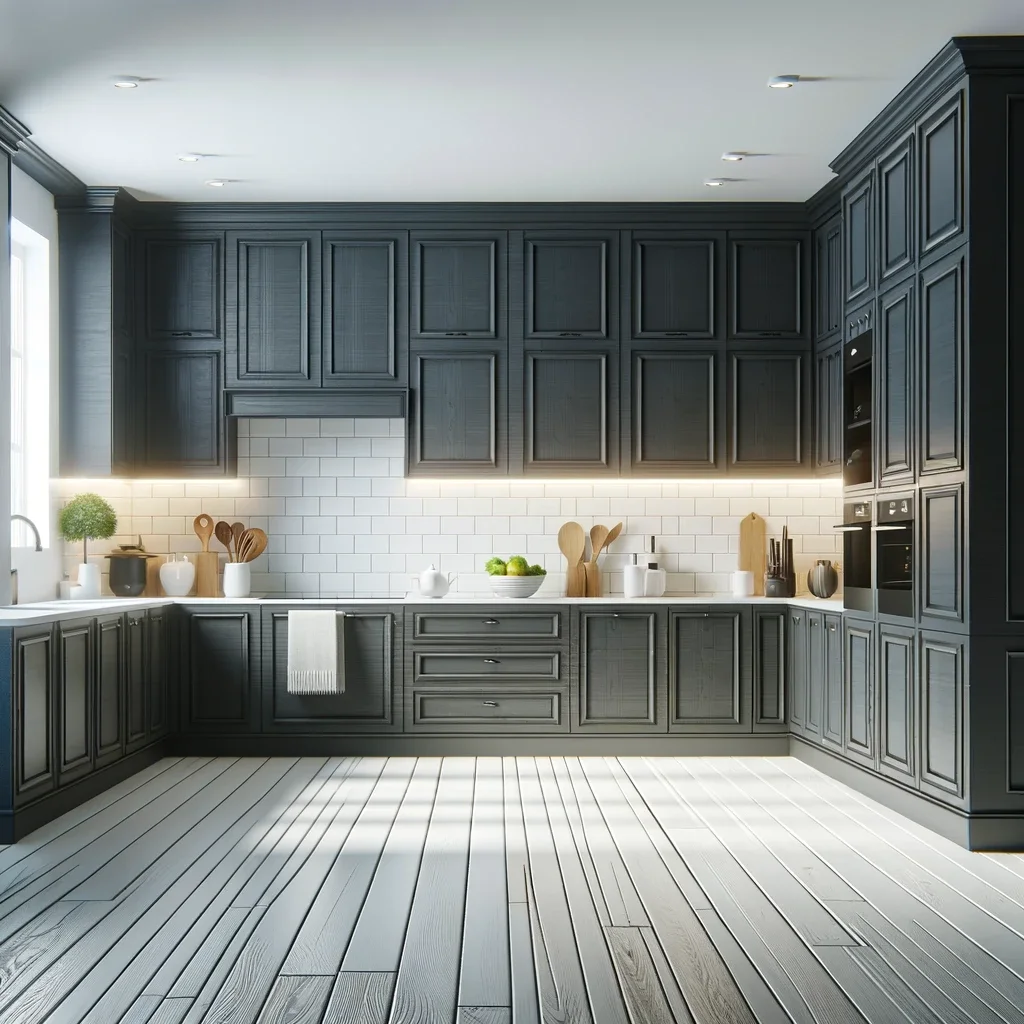 If you're working with a budget but still want an attractive flooring option, consider white laminate.
This material has come a long way in terms of design and can mimic the appearance of hardwood or tile convincingly.
Lighter shades of laminate can brighten your kitchen and complement dark cabinets effectively.
Tip: Choose a Wide Board Design to Make Your White Laminate Floor Look More Luxurious
Laminate flooring is known for its low maintenance requirements. It is resistant to stains, easy to clean, and durable, making it a practical choice for a high-traffic area like the kitchen.
In addition, laminate flooring is often more budget-friendly than other flooring options like hardwood or tile.
If you're looking for a cost-effective way to update your kitchen's appearance, white laminate can be an excellent choice.
3. Mosaic Tiles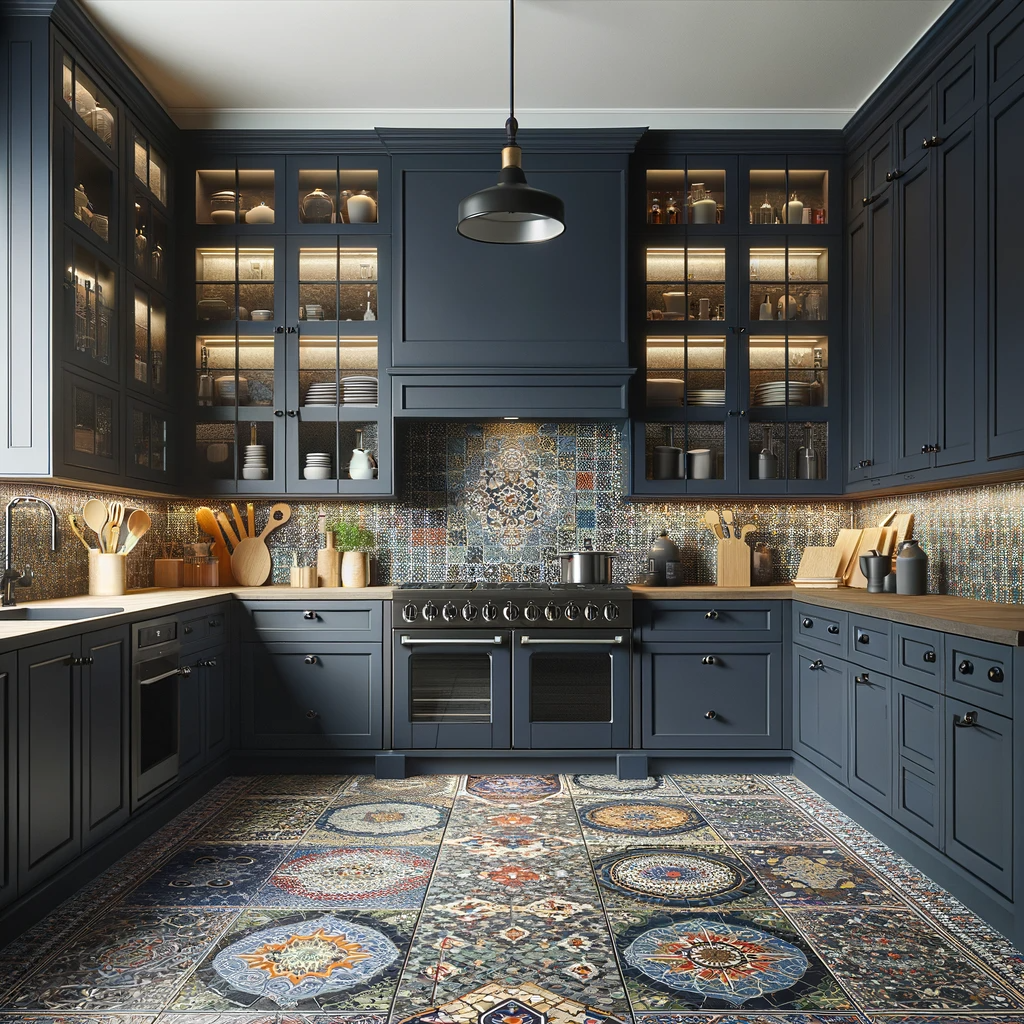 For those who want to add a touch of personality and character to their kitchen, patterned flooring is a great choice.
Geometric or Moroccan-inspired tiles in various colors can create an intriguing contrast with dark cabinets.
This eclectic style can make your kitchen stand out and become a conversation piece. Just be mindful not to overwhelm the space with too many patterns – balance is key.
Tip: Add Golden Glowing LED Lights to Make Your Kitchen Feel Warmer and Give Your Floors More Power
Mosaic tiles are relatively easy to clean and maintain. The grout lines may require periodic cleaning and sealing to keep them looking their best, but overall, mosaic tiles are a practical choice for kitchens.
The wide range of colors available in mosaic tiles allows you to coordinate other elements in your kitchen design.
You can introduce accent colors through cabinet hardware, wall paint, countertops, and decor items.
2. Grey Laminate
Grey laminate floors create a contemporary and sleek aesthetic that pairs well with the boldness of dark kitchen cabinets.
The combination of dark cabinetry and grey flooring can make your kitchen feel modern and chic.
Tip: Create a Balanced look with Dark Green Kitchens and Grey Laminate Floors
While grey floors are not as reflective as white surfaces, they can still help bounce light around the kitchen, making it feel brighter and more open. This is valuable in dark kitchens with limited natural light.
Ensure that the installation of grey laminate floors is done correctly to achieve the desired look and durability. Proper underlayment and sealing are essential to prevent moisture infiltration.
1. Light Hardwood Floors
Light hardwood floors are an excellent choice when pairing them with dark kitchen cabinets.
The contrast between the dark cabinetry and light flooring creates a stunning visual effect.
Tip: Brighten Up The Space with Large Colorful Artwork Pieces
Light hardwoods, such as oak, maple, or hickory, not only brighten up the space but also provide a warm and inviting atmosphere.
This combination is timeless and versatile, making it suitable for various kitchen styles, from traditional to contemporary.