Our readers support us. This post may contain affiliate links. We earn from qualifying purchases. Learn More
We are used to hearing the word fancy a lot. We even throw it out in conversation to describe many things, from glossy environments to glittery items. However what does fancy actually mean?
What does Fancy mean?
Like any other term or feature in the world of design, the word fancy is also quite subjective. What is fancy to one person may be just plain to someone else. What is boring to one person may seem fancy to another.
|
A more generalized definition does exist, however. Whenever the word fancy is mentioned your mind is loaded with images or elegant, stylish and glamorous things. This is not wrong, however, it is important to acknowledge that apart from the external visual representation of things, fanciness also includes other dimensions.
Something can be fancy even if it has been skillfully created with style, involving complex and unique techniques. In addition, it defines any object that can be both functional and ornamental, displaying a unique and high-quality design.
And of course, one of the main definitions of fancy is being a little bit over the top, dare we even say luxurious. This includes expensive materials, elegant finishes and extravagant looks in general.
Therefore the word fancy can be interchangeable with the following: impressive – extravagant – unique.
There is also another take on what fancy really means which is more personal. Fanciness can also just be a state of mind. For as long as any design detail displays a characteristic that looks fancy, such as golden legs in a chair, gems embedded in a rug or a shiny finish to a credenza, the whole design can be perceived as fancy.
Therefore, even just thinking outside the box can define something as fancy in terms of interior design and rug selection. By paying close attention to the smallest of details you can truly make a difference. This is how you can achieve an alluring design through fancy area rugs.
Fancy Area Rugs
Fancy area rugs have a few characteristics that distinguish them. For example, original Oriental rugs are usually considered fancy due to their clever designs and expensive materials.
In addition, they have been handwoven using special techniques many years ago. Some of them even have gems embedded in the knots. All these features make them luxuries and priceless, and as a result, fancy as well.
Other fancy rugs include plush and soft cotton rugs with a sheen that look utterly modern, comfortable and glamorous. Animal-based rugs can also be perceived as fancy due to their price and material.
More fancy area rugs include any peculiar shaped rug or round-shaped rug that can add a sense of uniqueness and elegance to any interior they are placed in. This could be a bathroom, living room, bedroom or even kitchen.
Each space can be noticeably elevated by a fancy rug. The area that a rug covers makes it a very important element in any space. This feature allows the rug to determine the style and character of the room as well.
This means that despite the rest of the furniture or decor, just by placing a rug into a space, you can still upgrade it and make it look fancier! Here are some ideas on how to add fanciness to the main rooms in a house through rugs.
Fancy Bathroom Rugs
Yes even a bathroom can become fancy with the right rug. Especially if you have the necessary space to place a runner rug or a round rug in it. If that is not the case, there is still nothing to worry about. Fanciness pierces through other details as well, such as material, finish and design.
Here are some ways you can make your bathroom look unique with fancy rugs:
The Fancy Oriental Rug Bathroom Design
This rectangular Persian rug adds style and color to an otherwise plain white bathroom. This rug covers a large space and makes the entire room seem more lively and luxurious.
Apart from the obvious warmth it adds to the floor, it also adds warmth to the atmosphere by turning this room from a toilet to a bathroom you would like to spend time in. After all, it is important to pay attention to this space as this is where you can do your make-up, get dressed and get ready for the day.
Basically the bathroom is the one room where you fancy up yourself, so why not make it fancier through a rug as well!
The Fancy Plush Rug Bathroom Design
You can always add more style and elegance to a space through a plush and warm rug. These peculiar shape which characterizes them also allows them to fit perfectly to any floor area. They are comfortable and very luxurious to the touch.
It comes as no surprise that a bathroom would look 10 times fancier with a pure white rug in it, especially by the vanity mirror. The white and glowing color choice in this case is also another tribute to fanciness.
The Fancy Round Rug Bathroom Design
This glamorous and elegant round rug placed between the mirror and the bathtub just screams fanciness. It's color and sheen go perfectly well with the golden faucets and the crispy white furniture.
The rug brings more character to the space through its distinct color and shape. It transforms it from a generic hotel bathroom to a beautifully designed restroom. You can tell that the designer paid special attention to every detail.
Fancy Rugs for Living Room
Living rooms are the most important spaces in a house. The living rooms are the gathering spaces, or better yet, the hearts of the homes.
This is why the area rugs in these spaces are not only considered focal points of the living room but sometimes they are also perceived as anchor points for the entire design of the house.
As a result, choosing a fancy rug for the living room is quite a responsibility. Here are some ideas to get you started and inspired.
The Fancy Geometric Rug Decor
|
This beautiful geometric area rug with a sheen finish emits a sense of modernity and elegance that goes perfect with this bright and aerated living room. The different shades of grey combined in this rug, create a balance between the golden hues and the rest of the colors in this interior.
The rug becomes the focal piece of this decor. It brings a very lavish feeling to this living room. It is perfectly combined with the surrounding furniture and the posh decor.
Geometric rugs are the perfect choice if you want to create a fancy and unexpected twist in an interior with hints of classicism in it.
The Fancy Colorful Area Rug
If you like colorful and expressive interiors then this one is made just for you. This living room shows a great way how to spruce up your home: Add a fancy area rug.
The area rug used in this case is quite big and bold. It covers a large portion of the floor and brings color to the entire room through its jazzy design and playful shades and tones. In addition, it matches perfectly the posh white couch with the block colored cushions that pull inspiration from the rug.
This is a great example of how a fancy area rug can alter the mood of the entire room and create a joyful yet stylish interior.
The Fancy Monochrome Living Room
This ultramodern living room has become utterly attractive through the large and fancy area rug used. The shiny finish of the rug creates a wonderful combination between the polished marble and the black luxurious details in this ensemble.
The rug completely covers the floor and becomes a radiant piece where the eyes gravitate towards. It fits perfectly within the fancy decor displayed by the golden lamp, the lavish fireplace and the expensive leather soft and plush seats.
This is elegance to its core, which also defines it as 100% fancy in the interior design realm.
See more:
Fancy Rugs for Bedroom
A fancy bedroom can only be comfortable and allow you to have a good night sleep, but it can also be relaxing and satisfying. After all, it is not just the mind that needs to unwind after a long day at work. Eyes require relaxation too.
This is why adding a fancy area rug to your bedroom will spruce it up instantly. You will feel the comfort and warmth of the rug under your feet. In addition, you will also take in the beautiful design the rug creates.
Here are some ways on how to fancy up your bedroom:
The Fancy Oriental Bedroom Rug
Oriental rugs feature a lot of details, patterns and motifs which sometimes can be overwhelming in a space where you mainly want to sleep. This is why the rug chosen for this interior works perfectly.
It is indeed an Oriental rug, however, it features pale and relaxing colors that fit perfectly with the rest of the interior.
This fancy rug is what adds style and glamour to an otherwise plain bedroom. Its tones blend perfectly with the white and natural colored interior.
The Fancy Plain Bedroom Rug
When your bedroom has a lot of materials and features in it, it is always better to go for a more subtle area rug. In this case, the space uses a massive plain rug to warm it up and make it feel complete.
This soft and fancy cotton rug is perfect for this over the top bedroom. The material and soft color of the rug creates a warm landing for the feet in the morning, as well as a comfortable surface where to move around in the room.
The takeaway: Fancy rugs don't have to be overwhelming!
The Glamorous Fancy Bedroom Rug
Glamorous and shiny rugs work well in the bedroom too. When placed underneath the bed they create a soft link between the bed and the floor. This strategy allows them to remain fixed in place and avoid any slippery situations.
This fancy rug also brings a hint of lilac to the room, making it look more comfortable and approachable. It creates a good balance between the cold materials used in the floor and wall, and the soft fabrics used for the bedding.
See more:
Fancy Rugs for Kitchen
Kitchens are the ultimate place where you can use a rug to make it look fancier. Differently from the rest of the spaces in the house, the kitchen is mainly elevated by the usage of runner rugs.
These rugs can bring color and personality to the hard edges created by the cabinets. In addition, they are perfect to walk on instead of the cold floor boards.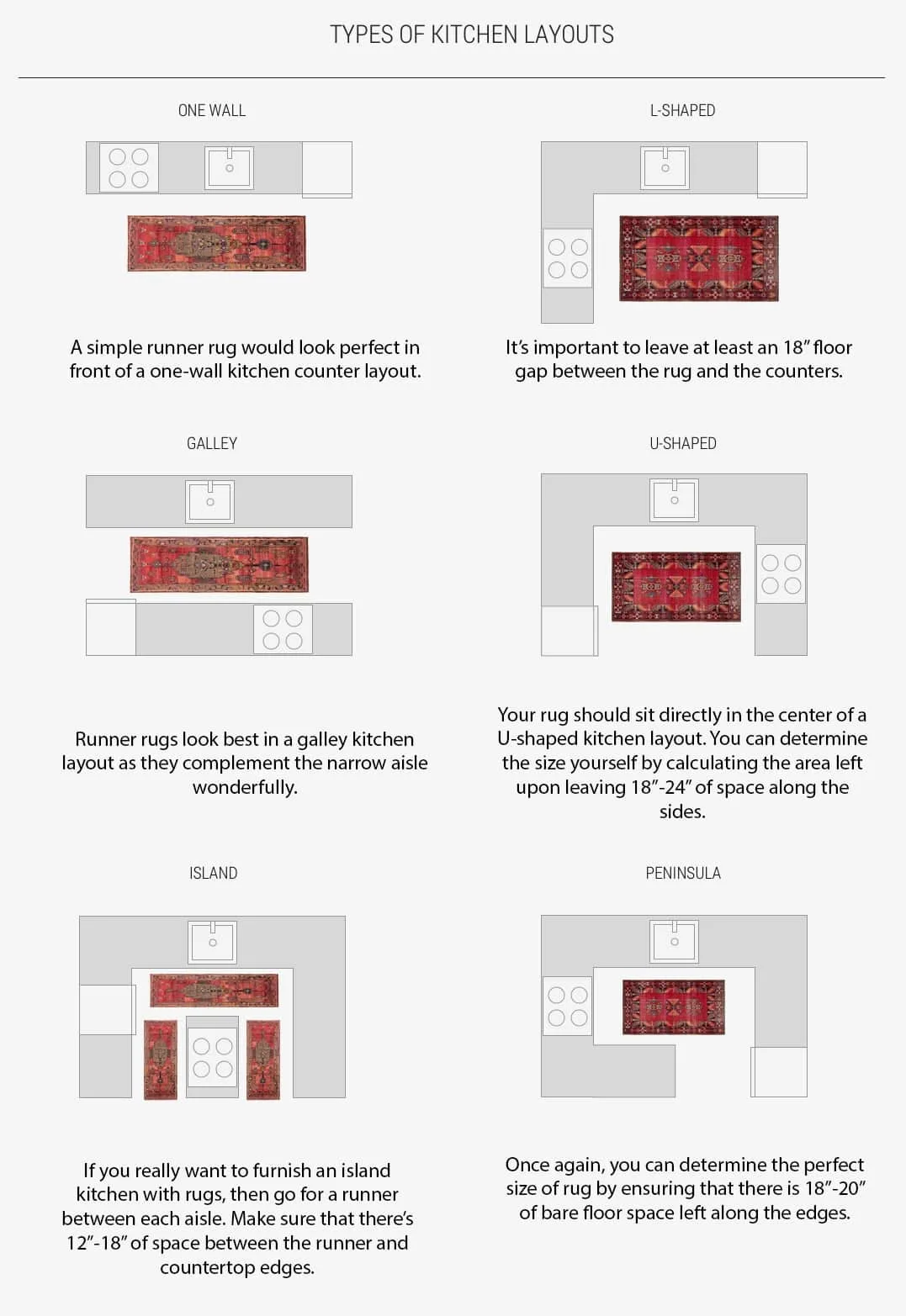 Here are some interesting ideas roaming the web:
The Oriental Fancy Kitchen Rug
If you have an all white and modern kitchen an oriental rug can really accentuate its fanciness and make it look extra special and unique. In this case, the space is big enough to support a full size, rectangular area rug.
This colorful rug brings more character to the cold kitchen cabinets, and creates a link between the crisp white boards and the warm wood high chairs.
The Blue Fancy Runner Rug
You can make even a traditional looking kitchen seem fancy with the right runner rug. This blue runner provides a great and intriguing addition to the white cabinets of this kitchen.
It fits perfectly between the kitchen furniture and adds charm and elegance to this interior.
The Oriental Fancy Runner Rug
An Oriental runner rug with beautiful patterns and motifs is the perfect addition for your kitchen. This fancy runner elevates the entire design of this modern kitchen and adds another level of detail and charm.
A small design move such as adding a bold colored tuner rug can turn this space into the most favourite part of the kitchen. Its rich and elaborate patterns create a stylish and deluxe kitchen design!
See more: