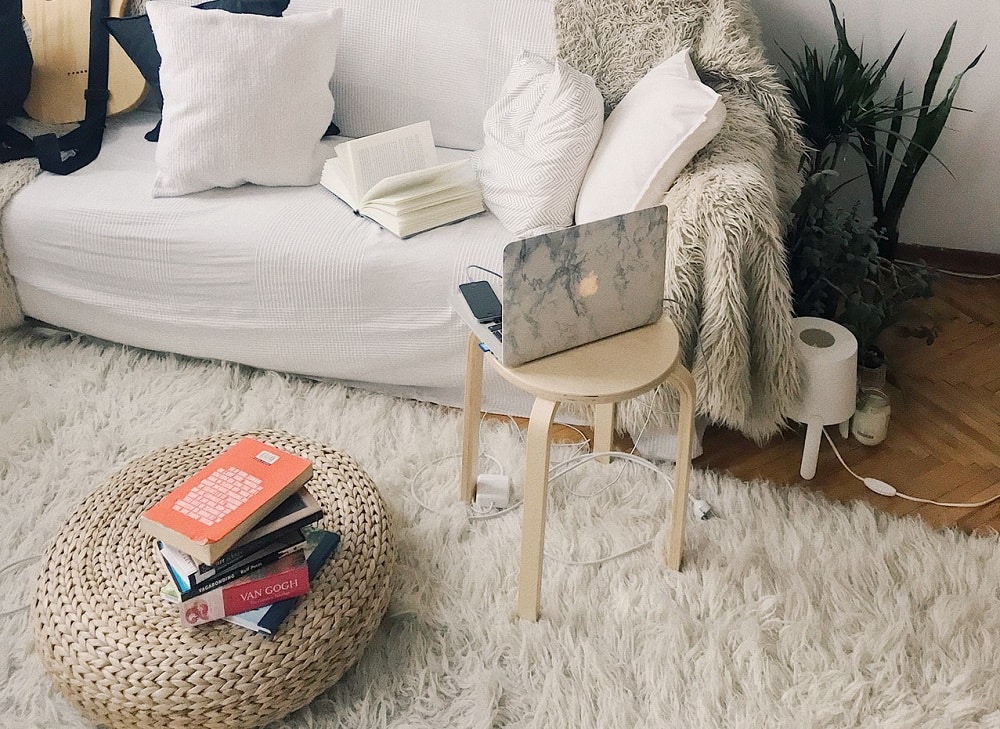 White fluffy rugs are included in the shag rug category. They are soft, white, and super plush rugs, best represented by the flokati. The flokati itself is a 100% wool rug, traditionally made in Greece.
It can be found in many different and vibrant colors as a result of dying. A white flokati, however, is the most common and most elegant version of them all.
|
These rugs scream 'glamour' in every detail. They can be used both in modern as well as more classical environments to add an extra flair to the room.
A white fluffy rug is a perfect choice if you wish to create a fairytale atmosphere through simplicity.
White Fluffy Rug Ideas
White fluffy rugs are quite versatile as pieces of decor. They add depth and dimension to every room they are placed in. In addition, they go with any decor and all kinds of environments.
You can place this type of rug in a bedroom to add another layer of warmth and comfort to your floors. They are perfect, especially for those cold winter mornings.
Moreover, you can position a small fluffy rug in a bathroom to make it look fancier or even a reading nook to make it more relaxing.
Living rooms can also benefit from these rugs in order to become extra detailed and utterly glamorous. Lastly, a white fluffy rug can soften the sharp edges of a kitchen and make it more inviting.
White Fluffy Rugs for the Living Room
Fancy and Fluffy
The Gallagher Shag White Rug is a great example of how a rug can spice up a living room with fluffiness and charm.
Its composition allows your feet to feel warm and comfortable through the 7 cm pile height. In the meantime, its long shiny fibers give a modern edge to the room.
This is a 100% polyester shag rug with a jute backing made in Turkey. Its delicate material to the touch makes this an indoor rug. The rough material on the back however allows this rug to be placed in rooms with underfloor heating as well.
The Gallagher Shag White Rug comes in different sizes, from runner rugs to large area rugs such as a rectangular 240cm by 340cm that weighs 22.85kg.
This rug can cover up a large amount of the floor and become the anchor piece for the rest of the furniture. In addition, it can be combined with other smaller fluffy rugs that can be thrown on the couches, a wooden chair, or beside a dreamy fireplace.
Comfy and Fluffy
The Chris Shaggy Snow White Rug is another great addition to a living room, especially for those free-spirited souls. It has a playful character that can add some subtlety to a colorful and eccentric interior.
This is a stain-resistant shag and flokati rug made in Turkey that can be placed in the midst of vibrant green plants, exotic wall decors, and rustic wood furniture.
Its pile height of 5 cm is ideal for rooms that experience high foot traffic. See some of the best rugs and materials for high traffic areas.
In terms of its composition, the Chris Shaggy Snow White Rug is made of 100% polypropylene with a jute backing. It is a strong and durable rug that can also be used in a household with furry friends.
It comes in different dimensions in order to match the size of any living room.
Shaggy and Fluffy
The Donovan Shaggy White Rug is a peculiar piece. It is a synthetic shag and flokati rug with a special size and shape, reaching 107cm by 183cm.
This relatively small rug can be placed next to a small sofa, an armchair, or a wooden coffee table.
Its shape is an eye-catcher which makes all the surrounding furniture more prominent. The Donovan Shaggy White Rug is a 100% acrylic with a latex backing which protects it from slipping.
The dimensions of this rug allows it to be used in both warm and cold climates. It can cover up enough of the floor to make a statement but not overwhelm the entire design.
White Fluffy Rugs for the Bedroom
Starry and Fluffy
The Madrid Shaggy White Rug is a joyful design by Rosdorf Park in the shape of a star, reaching 60 cm by 60 cm.
This is a fun and cute addition to a kid's bedroom. It adds fluffiness and creativity to the floor through the pointy star shape.
You can place this rug close to the bed, the play area, or the window. It can be positioned on top of a carpet or even hardwood floors.
This shag and flokati rug is made of a synthetic material that imitates wood but it also stain-resistant.
The Madrid Shaggy White Rug has a 3 cm pile height and an interlining in suede. This allows the rug to be antiskid and abrasion-resistant. The edges are hand-sewn to protect it and make it more durable.
Elegant and Fluffy
The Wonardo Shaggy White/Beige Rug is an elegant rug in a beige hue that makes it a more approachable piece. You can place this rug in any bedroom easily as its color can be integrated within any decor, whether modern or classic.
In addition, this fluffy Rug comes in different dimensions. Therefore, it can be placed under the bed, as a runner on both sides of the bed or in front of a vanity. Learn what size rug is best for King beds and Queen beds.
You can also use it as a separate area rug that does not touch any of the furniture if the room size permits.
It is made of 40% Wool, 40% Polyester and 20% Polypropylene with a 100% Jute backing material. This Belgian rug can be used in a bedroom with underfloor heating as well.
Cuddly and Fluffy
The Tomlinson Handmade Shag White Rug by Mikado Living is an exquisite handmade piece. This is a soft and plush runner rug that can be used on the floor beside the bed but also as a throw. You can also place it close to the wardrobe for extra comfort when you are getting dressed.
This is a super soft high pile rug with the shape of a double sheepskin. A rug gripper is recommended to avoid any slippery situation.
This Scandinavian inspired rug will elevate the design of your bedroom. In addition, you can match it with throw pillows to create a cohesive story within the room.
White Fluffy Rugs for the Kitchen, Reading Nook and Bathroom
Kitchen White Fluffy Rug
The Aljay High Pile Plain White Rug is a great addition to any kitchen. It is a stain-resistant and dirt-repellent shag and flokati rug that can spice up your kitchen design.
In addition, the soft character and plush pile of the rug can soften the hard edges of the kitchen cabinets and make it a more relaxing spot in the house. See some of the best plush rugs.
This is a high-quality rug that does not need any rug gripper. In addition, it is manufactured with various types of polypropylene yarn. As a result, this rug is strong, durable, and full of texture. Also, it is very easy to maintain, therefore becoming a perfect choice for kitchens with high foot traffic.
This white fluffy rug can add charm and luxury to any kitchen setting.
If you are looking for a warm yet resistant rug for your interior then this rug can boost your design while still offering your comfort.
Bathroom White Fluffy Rug
Most people find it hard to imagine a white fluffy rug in the bathroom. The Belfry Bathroom bath mat however is an ultra-soft cotton mat intended to give the bathroom the same luxurious feeling as the rest of the rooms in a house.
It has a thick cushion that not only protects the floor but also absorbs all moisture and allows your feet to remain dry right after a shower.
In addition, this is an 80 cm by 50 cm mat. You can place it in front of the mirror, right next to the shower, or even as a centerpiece in the bathroom for extra glamour.
Reading Nook White Fluffy Rug
There is nothing better on long winter days than to be immersed in the fluffiness of a cozy white fluffy rug, reading a brilliant book, and looking at the snowflakes hitting the window glass. The Engram Handmade Shag White Rug is a perfect choice for this setting.
This Indian hand made rug is completely unique. You can place it close to a reading nook or home library. It offers a pleasant place for anyone to sit and unwind.
This rug is safe for floor heating. It provides a charming addition to any home. A great place where to put it is also in front of the fireplace.
White Fluffy Rug Considerations
|
White fluffy rugs are charming, elegant, and comfortable. Their color is easy to match with any decor, whether modern, rustic, or traditional. In addition, they balance the room and elevate the style once immersed in the interior design.
There are however some things to consider when inserting a white fluffy rug in various settings.
Here are a few tips to help you make the most of your decor:
If you are using a white fluffy rug in a wet area such as a kitchen or a bathroom, make sure they are stain-resistant and dirt-repellant.
Consider the traffic of the room when picking out a fluffy rug. Low-traffic rooms can benefit greatly from a high pile rug. On the other hand, a low pile rug is better for rooms with high foot traffic.
Make sure to check if the rug needs a backing or not, especially in large rooms with hardwood floors. Some high pile rugs are very slippery and may need a rubber backing to keep them safe.
Go for a large area rug if you have a modern, minimalistic, and sleek interior. A white fluffy rug can elevate the fanciness in such a space.
Aim for smaller rugs in smaller rooms, especially the bedroom. You can combine different shapes to create a beautiful design story in your space.
The last piece of advice is to be creative and explore all different shapes of white fluffy rugs. Their color and volume allow you to experiment and let your creative mind go wild. Anything you pick will become a focal point in the room.