Our readers support us. This post may contain affiliate links. We earn from qualifying purchases. Learn More
A mudroom is also known as an entryway. This term originates from the USA and refers to a secondary entrance. Its main purpose is to allow people to remove any dirty shoes or clothes in a specific space so that the rest of the house remains clean. In some cases, the mudroom can also serve as a storage space or laundry room.
Just because it is called a mudroom, however, it does not mean that this space should remain muddy and neglected. You can make your mudroom more welcoming as an entryway by adding a rug or mat.
|
The integration of a rug shows that the mudroom has been curated and is used quite frequently. Rugs can add charm and warmth to the space, and all in all, they can make the mudroom feel more welcoming and homely.
The best rugs you can have in your mudroom are water and stain-resistant ones. You should look for durable materials that can perform well in areas with heavy foot traffic.
Here are some suggestions on how to choose a rug that is both functional and interesting for your mudroom.
Best Rugs for your Mudroom or Entryway
Since mudrooms experience not only a great deal of foot traffic but also a lot of muddy shoes, not all types of rugs can be appropriate. So instead of wasting your money on a pretty rug that will fade and not withstand the harsh character of a mudroom/entryway, here is our list of best possible 'candidates'.
Sisal Rugs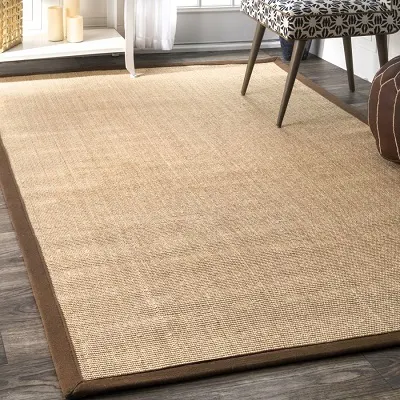 Sisal rugs are great choices for a mudroom because they are designed to trap dirt and remain stain and mold-free for long periods of time. With the right additives, sisal rugs can be treated to be water-resistant, a feature you can clearly check on the product description or tag before purchase.
In addition, sisal rugs are very easy to maintain. You can clean them with a hose and leave them outdoors to dry. You can also have them dry cleaned professionally, to preserve their quality longer.
Sisal rugs come in a variety of shapes and knot designs, like the modern and seamless Brown Sisal Border Area Rug. This is a one of a kind flatwoven neutral shade, perfect for a charming countryside mudroom.
Last but not least, sisal rugs have a natural look through the earthy color tones. Their design creates a good connection between the indoors and outdoors which is a great feature to have in a mudroom/entryway rug.
Seagrass Rugs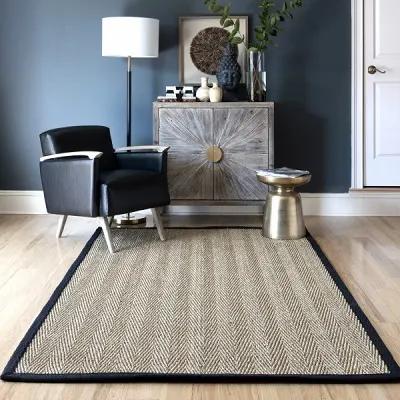 Seagrass rugs, similar to sisal ones, add a natural touch to a mudroom. These rugs are resistant to stains by design and can perform well with high foot traffic. In addition, seagrass rugs are durable and easy to maintain. Their rough surface can help you wipe your shoes clean from any type of dirt.
The Black Seagrass Herringbone Area Rug is a good option for a large mudroom. It covers a considerable amount of the floor and provides additional details through the herringbone texture framed by the brown fabric.
Wool Rugs
Wools rugs come in different versions. Here are the most appropriate ones for mudrooms:
Indoor/outdoor Reversable Wool Hooked Rugs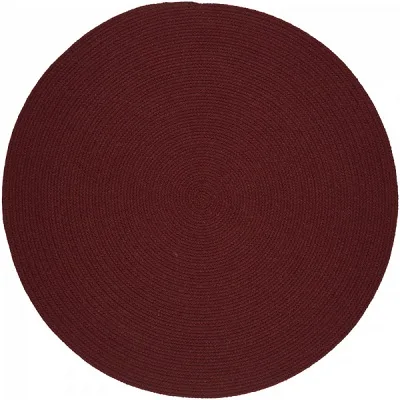 The main advantage of an indoor/outdoor rug is that it combines the durability in harsh conditions of outdoor rugs, with the soft and comfortable attributes of indoor rugs.
The indoor/outdoor reversible wool hooked rugs are indeed water and stain-resistant. In addition, these rugs are lightweight and come in many different designs and colors. As a result, they can match various types of mudroom decors. They are ideal for mudrooms that also serve additional purposes such as laundry rooms.
Another great advantage of these types of wool rugs is that they are easy to clean with mild detergent and a water hose. Once washed you can leave them in the sun to dry without worrying about the design fading. Indoor/outdoor rugs are treated with materials that prevent color fading.
Last but not least, wool rugs are made of natural materials which makes them environmentally friendly as well as warm. The Red Wine Braided Reversible Area Rug is an excellent item in this collection. It has a captivating design with a rich color that can also be reversed. In addition, this rug is also crush-resistant.
Hand-Woven Wool Rugs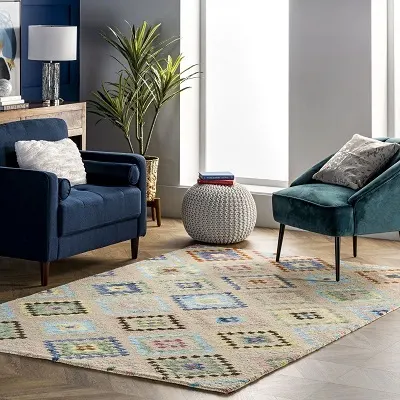 The major advantage of handwoven wool rugs is their look. These are soft and fancy looking rugs that can make your mudroom look more elegant and inviting, like a proper entryway. Because they are handmade pieces in wool, these rugs need to be cleaned professionally in order to maintain their pristine appearance.
The Ivory Handmade Tribal Diamonds Area Rug is great for a fancy mudroom. This rug can absorb noise and make the room more stylish. It sets the tone for the rest of the house while you enter through the secondary door as well.
Cotton Rugs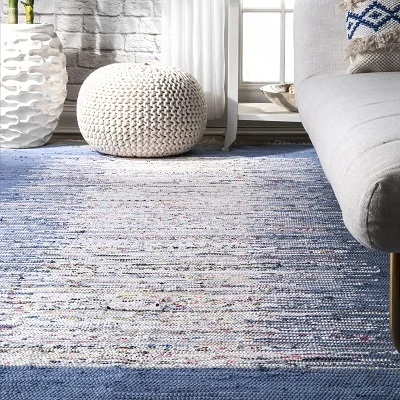 Cotton rugs are light pieces of textile that can easily be moved around in a mudroom. These rugs come in various colors and textures which allows you to find the right fit for any type of decor.
In addition, cotton rugs are easy to clean and dry, even in a washing machine and dryer. They are low pile soft rugs that resemble thick pieces of clothing.
Stains are typically hard to remove in cotton rugs. As a result of excessive cleaning, their design can also fade and the entire rug can have an old and distressed look. These are two of the disadvantages cotton rugs have compared to the rest when used in a mudroom.
There is one way to go around this issue, however, by choosing a shabby chic rug and make the distressed look a design feature. TheDenim Turin Cotton Flatweave Area Rug is a good option that gives the mudroom a coastal and fresh look.
Polypropylene Rugs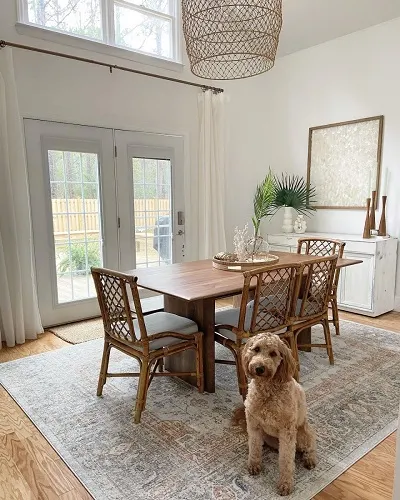 Polypropylene mudroom rugs are durable and easy to clean. These rugs come in a variety of shapes, sizes, colors, and designs. As a result, you can use polypropylene rugs to inject your mudroom with cheerfulness and playfulness to make it look more fun. You can also choose a more elegant design like the Silver Florid Dreams Area Rug for a more chic look.
You can choose between a rug or a mat in polypropylene and both will be great options for these types of spaces. They are quick to dry and do not deteriorate easily, even under harsh conditions.
Mudroom Rug Ideas
We have gathered some of the most interesting mudroom rug options for you to pull inspiration from. Here are our favorites:
Coastal Feeling Mudroom Runner
|
Whether your mudroom is minimalist, rustic, modern, or classic, a rug is always a good addition. The low pile cotton rug of this mudroom adds to the level of detail on the floor. It maintains the same colors as the tiles but creates more depth through the stripes.
Despite the rubber boots and the blanket in the corner, the entire mudroom maintains a coastal fresh feel and makes you think of a romantic summer storm through the design of the rug and the fringe.
Small and Functional Mudroom Rug
|
This very organized mudroom uses a practical sisal rug just big enough to wipe your feet at the door. The rug is small so that the pattern of the floor is not covered or overwhelmed. It adds some natural tones to the white pale mudroom.
This rug matches smaller decor items in the room like the four small boxes.
Seagrass Mudroom Oval Rug
|
Oval rugs are interesting because they soften the harsh edges and finishes of various items that compose a room. By doing so they can make the space more feminine and stylish.
This seagrass oval mudroom rug matches the floating wooden bench and accentuates the farmhouse feeling of the room. It covers the cold white tiles and adds a warm layer for anyone to step on.
Double Sisal Mudroom Runners
|
Blue and beige go very well together, as this mudroom indicates. The size of the room allows for more than just one rug to be placed in it. This is why, a couple of runners have been thrown in to add more detail to the space.
Both runners pull inspiration from nature. Despite their knitwork and texture being different, the same material has been kept to match the two rugs.
General Mudroom Rug Tips
|
If you are in a rush to complete the look of your mudroom, here are some quick tips to make the whole design process go smoothly:
If you are using a cotton rug for your mudroom, make sure to get a rubber underlay to prevent the rug from sliding. A rubber backing will hold the rug securely in place and make it safer to walk on.
For a farmhouse look choose a natural sisal or seagrass rug. These rugs will add a natural tone and feeling to the entire space.
If you want to achieve a contemporary elegant look for your mudroom, pick a wool or cotton rug in black and white stripes.
Clean your mudroom rugs as soon as you see stains on them to prevent the stains from setting and being harder to remove.
Let your mudroom rug dry thoroughly before placing it on the floor again so that it remains mold and mildew-free.
Place your mudroom rug close to the door so that it serves its main purpose of wiping your shoes from mud and dirt properly.
Choose your mudroom rug design and color in conjunction with other design elements in the room such as existing wall paint, picture frames, curtains, or shades.
Choose small mudroom rugs so that you can move them around easily within the room if you live in a very muddy area. You can also keep a few options at hand and change them frequently throughout the year.