Our readers support us. This post may contain affiliate links. We earn from qualifying purchases. Learn More
A living room is the hub of the entire home, and as such, it's usually larger than any other room in the house. This is why it's the perfect place to feature and experiment with oversized rugs.
Most modern homes have an open floor living area layout while the enclosed ones ensure that the living space is comfortably large. 15'x20' are the standard dimensions of such spaces, and here are some basic thumb rules that you need to keep in mind while furnishing them:
Under the furniture: The best way to make the most of large rugs in living rooms is by placing them under the furniture itself. This will give the room a more pulled-together appeal.

Texture matters: The texture and pattern of your large living room rug should never underwhelm the furniture upholstery. Make sure that it's at least two or three shades lighter than the actual furniture so that the entire layout can pop.

Proportions all the way: Thirdly, the proportions of furniture should complement the size of the rug. If the furniture is too small, then the oversized rug won't look good either.
So keeping that in mind, here's a list of the 20 best large rugs for your living room:
1. Jute Braided Area Rug
This natural fiber area rug is perfect for large living rooms that are rocking a neutral theme. Not only is it perfect for offsetting wooden floors, but it also has a gorgeous ruggedness that would pair well with smooth sofa upholsteries.
With a natural flair and stunning visual appeal, this rug would seamlessly blend within a living room. Its large size (either 8'x11' or 9'x12') would work in its favor when you splay it under the front legs of your furniture. You can even pair it with stone textured furniture items (like a marble coffee table, etc.) and see how it will come alive.
2. White Kenzie Carved Shag Area Rug
A touch of whimsy never hurt anyone, and this carved shag area rug embellished with soft pastels is perfect for giving your living rooms that dreamy edge. It would match well with light-colored furniture, especially colors light sandy brown, tan, cream, etc.
Now, the thing with this particular area rug is that you need to let the design at the center shine. This is why it's best that you pair it with a glass or acrylic/resin coffee table.
3. Beige Melange Tiles Area Rug
If you want to add a bit of texture to your living rooms, then this is the perfect area rug for you. Since it is such an intricately patterned floor piece, it's best that you place it in the center of the room and leave a 12"-18" offset between the edges of the rug and the surrounding furniture so that it can enjoy the spotlight.
Note that it should be placed on a floor surface that's at least 2 shades darker than it in order to truly shine. Moreover, pick furniture pieces that are less detailed and lean on the modern side so that the room doesn't feel too cluttered.
Pro tip: you can pick out a 6' large round rug for your living room if you want to add some shapely contrast to the mix.
4. White Super Soft Luxury Shag with Carved Trellis Area Rug
If you want to effuse your living room with a sense of soft, sensuous luxury, then this carved shag rug would be right up your alley. It has such a graceful aura and a plush tactile appeal – one would love to sink their feet in its lovely texture while sitting on the couch.
If you truly want this rug to shine, then it's best that you don't place any of it (yes, even the edges) under the furniture. Avoid putting a coffee table on it if you can, but if you really must, then opt for transparent options like glass and acrylic.
Pro tip: Pair this rug with dark-toned furniture (grey, dark brown, etc.) as well as darker floors so that it stands out amidst your overall ambiance.
5. Peach Nordic Emblems Washable Area Rug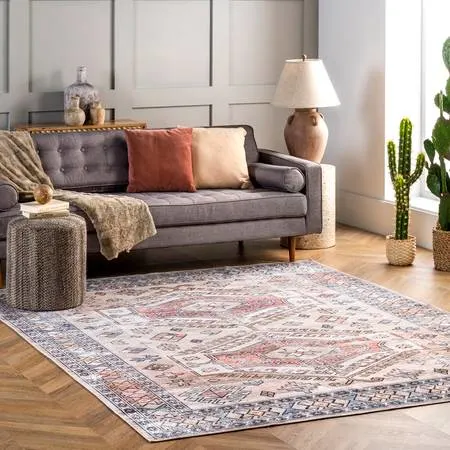 This area rug is perfect for featuring in eclectic style living rooms. It's got a playful vibe and a gorgeous pattern that would pair really well with plain yet stylistic furniture. This rug is also great for adding some tactility to Scandinavian, shabby chic, and other interior design styles.
Moreover, its light tone makes it rather perfect for pairing with jewel-toned upholsteries. So if you've got an emerald green or sapphire-hued sofa, then placing this large rug with them can give you a nice visual dynamic. Bring in some planters, an oversized armchair at one corner of the rug along with a nice floor lamp, and you'll have quite a cozy ambiance.
6. Multi Braided Area Rug
If it's color you want, then it's color that you'll get with this gorgeous multi-braided large rug. Instead of opting for a typical rectangular rug, you should opt for a large square-shaped version of this rug in order to make a true impact.
In this case, since the rug already has a rainbow of built-in colors, you should opt for understated and light-hued furniture. Neutrals would be great. However, you can make up for it by opting for cozy, plush pieces (sofas, wing-back chairs, stylistic wooden coffee tables, etc.).
7. Beige Fading Herati Medallion Area Rug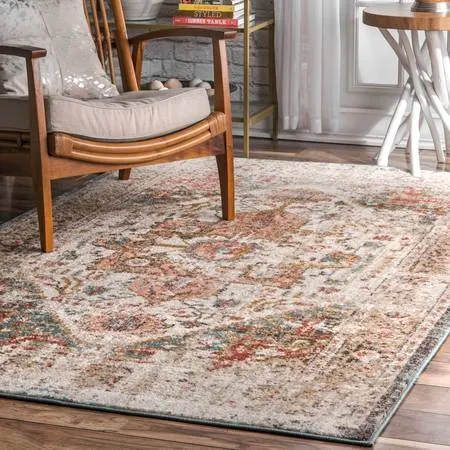 Faded orientals are a trendy investment, and they certainly don't get better than this particular rug. Featuring an amalgam of russets and creams that are offset with grey accents, this rug is just waiting to be styled in any modern and eclectic living room.
The best part about working with large size of this area rug is that it can be matched with classical style living room furniture. So, whether you've been struggling with what to pair with your rolled arm or camel-back neo-classical sofa and armchairs, this rug would be a perfect choice.
8. Beige Modern Tracery Tasseled Area Rug
Basic geometry never goes out of style when it comes to rugs, so this tracery tasseled concoction is perfect for those who want to effuse their living rooms with a touch of contemporary, urban chic modernity.
The classic beige color of this rug is great for featuring in both neutral as well as bold-colored living rooms. You can opt for both rectangular (8'x10') as well as square-shaped (8'x8') options – both can look gorgeous depending on your layout.
As for the furniture color scheme, you can style with darker shades of neutrals (tan leather, chocolate-colored suede, etc.) so that the lighter shades of the rug can pop.
9. Dark Gray Shaggy Curves Area Rug
If you're opting for a soft, industrial-chic look, then this shaggy rug with contemporary curves would make a great addition to your living rooms. It would fit perfectly with darkly rugged floors (think: distressed wood, black marble tiles, etc.) as well as bold furniture that leans on the darker side of the neutral palate.
The grey color of this rug also provides an excellent opportunity for you to bring in brass accented furniture. Brass nesting tables, gold filigreed coffee tables, and stylistic neo-classical pieces with gilded accents would pair stunningly with this area rug.
10. Silver Splatter Abstract Area Rug
This contemporary-style abstract rug is excellent for living rooms where you want to emulate a modern twist. Its light, bright color scheme makes it ripe for pairing with darker furniture themes and classic wooden floors.
Pro tip: You can match this rug with dark grey sofas that are laden with rust and white patterned cushions to get the best effect. Place it in a way so that its edges are not under the furniture and top it off with a glass coffee table for the best effect.
11. Jonathan Adler Inkdrop Black & Ivory Rug
This classic oversized area rug feels like artwork, so that's exactly how you need to treat it. Place it in the center of your living room and surround it with black furniture so that the pattern feels grounded.
It would look really classy with a tufted black chesterfield and something like an Eames Lounge chair in one corner. You can also complement it with glass and brass coffee tables to ramp up the aesthetic. A live edge coffee table would also look very stunning when paired with this large rug.
12. Kira Delft Blue Rug
If you're a fan of chintz and chinoiserie, then you'll really like this beautiful area rug. Its blue and ivory pattern leans on the oriental side and is perfect for adding a classical touch to your living room interiors.
The best furniture scheme to pair with this rug style is wood and white. A modern or Scandinavian-style white sofa with wooden legs would really make the design of this rug pop. You can even opt for vintage pieces like a classic coffee table to get the best of this look.
Pro tip: since the pattern on this rug is very intricate, you can even place its edges underneath the furniture (granted that you're working with solid white-hued pieces).
13. Camellia Jade Rug
The pastel-neutral beauty of this large area rug would fit well within contemporary living room interiors. It's got a gentle, understated playfulness that would pair really well with light, neutral-colored furniture pieces. It would especially look great with a Scandinavian-style oversized L-shaped sectional.
The edges of this rug can be placed underneath the front of the sofa and you can cap it off with a glass or acrylic coffee table so that the flowery pattern can truly shine.
14. Jonathan Adler Venom Emerald Rug
Bold, handsome, and charming, this emerald green area rug would make an excellent statement piece in a large living room. Its simple black edges and snake center-piece are simply gorgeous and give off a stunning, designer appeal.
This rug would pair really well with vintage style as well as contemporary interior designs. You can match it with jewel green furniture (think: emerald velvet sofas, black leather chesterfields, juniper green suede, etc) and gilded nesting/coffee tables with golden brass accents.
15. The Rebellion Rug
The sci-fi design of this area rug definitely leans on the charismatic side. If you're a fan of Star Wars, then you'll really love it – especially its black backdrop and storm-trooper white pattern. This rug is a statement piece as well, and will pair well with modern solid-toned furniture with wood and bright jewel toned accents.
This rug is especially perfect for living rooms whose theme leans towards a minimalist, well pulled-together, modern-conteporary side. It would look well with white tiled as well as wooden floors. A neat white backdrop of a wall would also make it really shine.
16. Floral Medallion Multicolor Rug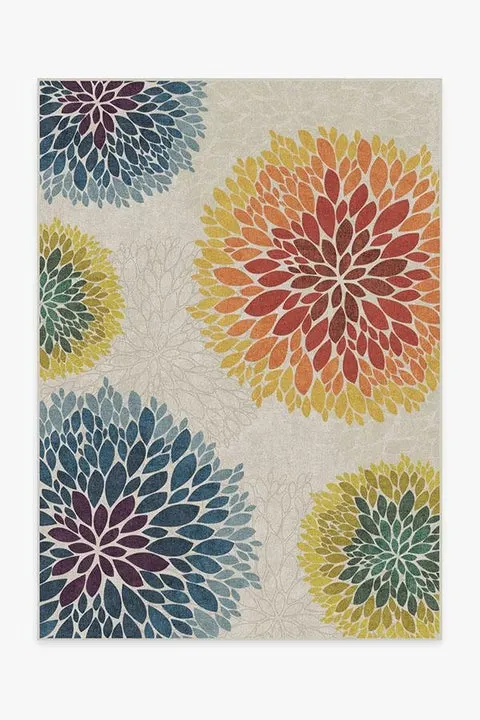 Cheerful and eclectic, this floral medallion rug boasts a multicolored facade that would make your rooms feel happy and bright. Since the backdrop of this rug leans on the beige side, it would work pretty well against dark wooden floors.
However, you should certainly pair it up with light, neutral-hued furniture so that the bright flowers have a chance to shine in all their true glory. Add in a statement pastel artwork and a vase full of flowers on your coffee table, and this rug would really pull your living room interiors together.
As for the coffee table, do't be afraid to think beyond the conventional. From hand-painted vintage pieces to modern glass concoctions, this rug can complement any and all styles of tables.
17. Patchwork Boho Rug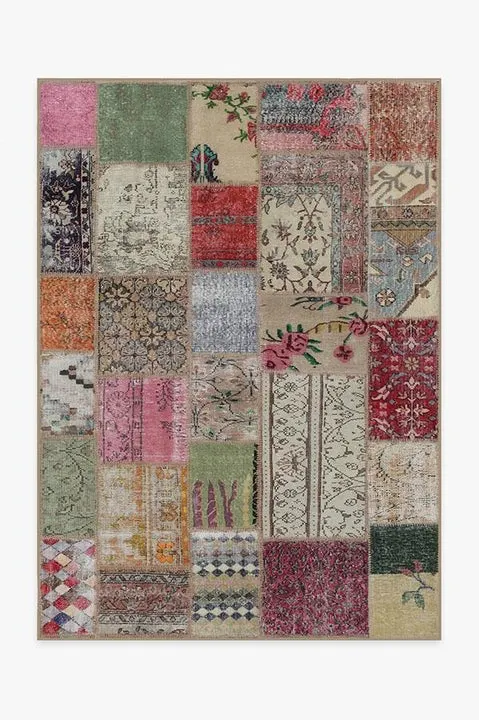 If you're working with an all-neutral interior design theme, then this is the large area rug that you should be working with. It's boho-chic and eclectic. It's colorful patchwork design would provide a vibrat base for your otherwise restrained color scheme.
You can pair it with cream and wood furniture along with a bright, airy ambiance with lots of natural light.
Alternately, this rug can also be paired with bright colored sofa upholsteries a la emeralbd green, cobalt blue, autumn leaf russet, etc. These will provide a stark, solid contrast against the multi-hued face of the rug.
18. Jonathan Adler Op Art Charcoal Rug
Gorgeously illusive, this op art rug is one of the most unique ones that you'll ever see. Splayed in all its oversized glory over the living room floors, it would help add an instant visual impact to your spaces.
The black and white striped pattern of this rug requires solid furniture accompaniment. This is why it should be paired with solid, single-toned furniture. Other than that, it would also look pretty great against rugged wooden furniture pieces, leather accents, and gilded brass tones.
19. Marble Golden Ivory Rug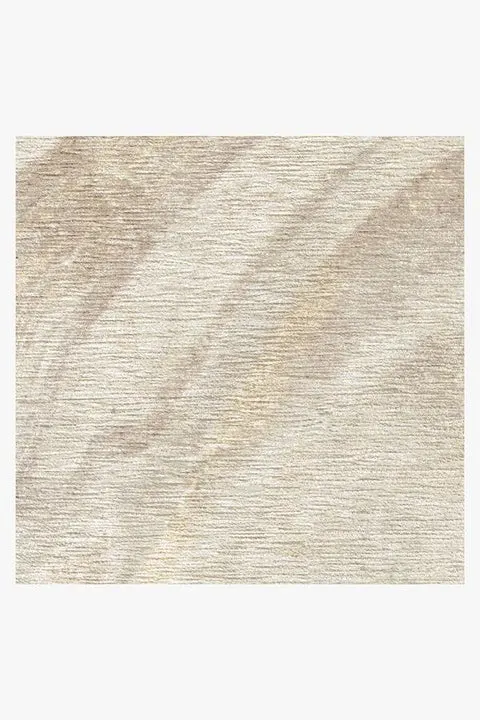 This ivory rug with its liquid luxury is an excellent way to add a refined and debonair aura to your living room interiors. Its dreamy white aesthetic would look stunning when paired with rugged wooden floors and equally creamy-white furniture. You can also add solid wood or golden brass accents to complete the whole look.
Pro tip: this rug would work well if you furnish its edges with fluffy white floor cushions, oversized armchairs, or even a cluster of snow white ottomans. All of these objects would help ramp up the classy sophistication of your living room ambiance.
20. Metro Multicolor Rug
Funky and full of fun verve, this rug will make a fantastic, eye-catching floor piece in your living rooms. You can get it in a large size and use it to cover most of the visible surface. You can even place its edges underneath your furniture and a backdrop of dark wooden floors would look even better.
As for the furniture, you can match the colors of the sofa upholstery to the colors visible in the design of the rug (think: carrot red, green, mustard, etc.). Pair it with a breezy white ambiance and bring in some gilded decor objects (golden floor lamps, gilded nesting tables, etc.) and you'll have a really fun ambiance on your hands!
See more:
So, these are the best 20 large rugs that you can furnish in your living rooms. Each one of them is unique and brings something new to the palate. We hope you find this list and guide helpful while selecting one for your home.