Our readers support us. This post may contain affiliate links. We earn from qualifying purchases. Learn More
Kitchens have been very popular spaces in a home in 2021. As such, their decor has also seen a considerable rise in popularity and interest.
There are many things that you can add to a kitchen to make it more inspiring and intriguing. The first item that does just that, but also adds warmth and charm to a space is a runner rug.
Runner rugs can soften the harsh edges of kitchen cabinets and blend in colors and patterns to create a more inviting setting. The best kitchen runner rugs of 2021 are jute and polypropylene rugs. These rugs are easy to maintain and quite appreciated this year, as the focus is on practicality in addition to design.
Here are some of our favorite kitchen runner rugs for 2021.
Blue Reverse Herringbone Runner Rug
Blue is a sophisticated color that has been very fashionable this year. Most importantly, the blended blue and white herringbone pattern of this runner rug look great in a traditional kitchen. It looks particularly prominent on terracotta tiled floors and Italian-styled kitchens.
The blue and white color scheme of the runner also adds a sense of freshness and coastal atmosphere to your kitchen, making it more inviting.
In terms of material, the blue reverse herringbone runner rug is made of 100% polypropylene. As such, it is durable and also water-resistant, easy to maintain, and most importantly, non-shedding.
In addition, its low pile makes for a durable and comfortable runner between the kitchen cabinets.
Orange Fun 70's Design Runner Rug
|
White kitchens are not only contemporary but also timeless. As such, they are extremely popular in 2021 too. Their plain design however is always in need of a splash of color to feel alive and lived in.
The orange runner rug with a 70's design and fringe is a great addition to any white kitchen. It adds a pop of color and character to the space and prevents the kitchen from looking cold.
In addition, the fun design in warm tones makes the room more inviting, inspiring, and vibrant. Most importantly, it promotes artistic creativity, a much-needed feature in a kitchen!
Natural Jute Braided Runner Rug
This Jute braided runner is a unique piece of textile, completely crafted by hand using eco-friendly materials. As such, it offers a warm and charming feel in a kitchen, making it immediately more stylish.
The natural color of jute allows this rug to be appropriate for any kitchen design. Its sophisticated appearance works great even with urban settings as well as coastal homes. If you want to create a relaxed holiday vibe in your kitchen, however, this is a perfect choice.
Most importantly, this jute runner requires no major maintenance. You can use it in busy homes and even if you have pets. Any spills or stains are quite easy to clean.
Stripped Monochromatic Runner Rug
|
Black and white runners are always attractive and very elegant. This stripped monochromatic runner rug pushes the design even further by adding a playfulness displayed in the thickness of the stripes. It looks like there are different sizes of black stripes on a white background.
The design of the rug goes perfectly with the rustic modern kitchen. The black stripes match the dark details such as the kitchen tap, the chairs, and the lighting fixtures. They add a dramatic effect to the room, making it more prominent.
The white background on the other hand looks very attractive on the warm hardwood floors. In addition, it matches the white counters of the kitchen.
Off White Chunky Jute Tasseled Runner Rug
While we are used to seeing jute in a light shade of brown, this runner comes in a delicate beige that is both warm and contemporary. Its added tassels on both sides create an "exotic resort" theme within the design of this runner that can easily be transferred to any kitchen.
Most importantly, the off-white chunky jute runner is hand woven in 100% jute. It has a thickness of half an inch and offers plenty of warmth. In addition, it provides protection for your kitchen floors against spills and stains.
Distressed Persian Runner Rug
|
Place a distressed Persian runner rug in your kitchen to make the design more compelling and utterly charismatic.
This runner is so unique thanks to the central emblem that is framed by detailed borders. As such, it looks like a small rug rather than a runner, giving the kitchen a focal point where the eye can gravitate towards.
The distressed look and the romantic blue and red combination create a shabby chic vibe with the kitchen aisles. It makes the entire room feel more comfortable, inspiring, and definitely warmer thanks to its floral design in bold tones.
Gold Splatter Abstract Runner Rug
The gold splatter abstract runner rug is perfect for a dark ultra-modern kitchen. Its radiating design can lighten up the space in a subtle way, without changing the concept of your kitchen.
In addition, its central splatter pattern matches contemporary decor trends and complements a minimal kitchen.
This runner is made of polypropylene and polyester, two durable fibers that are easy to clean, an important feature in a kitchen that is prone to spills and stains.
Fairytale Kilim Runner Rug
|
Have you ever wondered what the classic Disney kitchens would look like? They would be just like this one. You can picture Snowhite cooking for the dwarves or Cinderella singing with her animal friends in front of this sophisticated classic rustic kitchen.
And as any fairytale kitchen, it needs a fairytale rug such as this kilim runner with a repetitive central hive design. Its colors add warmth to the kitchen while its length complements the shape of the room.
This runner is very thin and yet impactful. It is important to note however that a rug pad needs to be used with this runner in order to make it stick in place and prevent any tripping accidents.
Black Ring Around The Rosette Runner Rug
The black ring around the rosette runner is a dramatic rug that works best in bright kitchens with plenty of sunlight, white cabinets, Oakwood details, and light hardwood floors.
Its design evokes both modern and classic notes through the central floral charm, the dark black background, and the distressed overall look.
In addition, its 100% polypropylene composition makes it a perfect choice for a kitchen as it is durable and easy to maintain. Most importantly, stains are less visible thanks to their dark tones and distressed look.
Jute Two Tone Runner Rug
|
The river ticking rug is a beautiful jute rug with stripes in black where you can also see the natural material coming through.
It is perfect for classic kitchens with hints of contemporary rustic design such as black accessories, brass handles, white marble countertops, and dark cabinets. This rug serves as an anchor between all these materials and the hardwood floors. It offers a warm and soft padding for your feet when you cook and prepare meals for your family, while also adding a natural element to your kitchen design.
Orange Southwestern Medallion Area Rug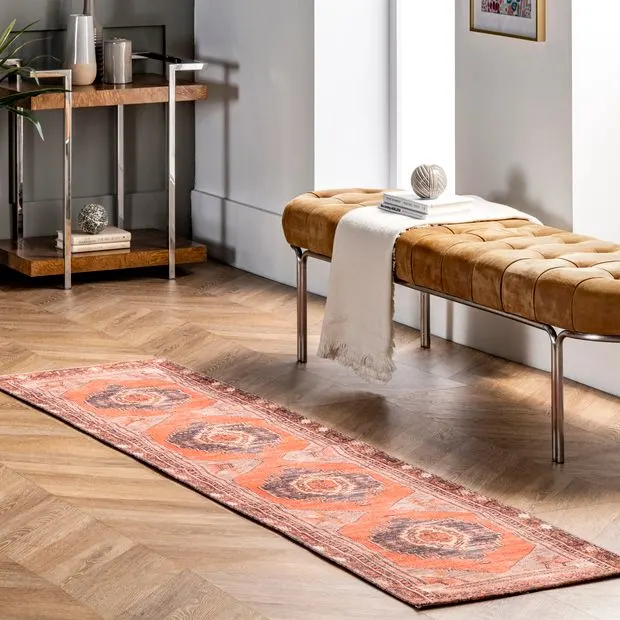 The Southwestern style has been quite popular in 2021, especially when it comes to area rugs and runners. This is why this orange runner is one of our favorite accessories for a kitchen this year.
It offers a colorful and captivating design that can bring a Bohemian vibe to your kitchen in a more cheerful way. In addition, its blended material composition is a testimony of its durability.
You can try inserting this rug in both a white and dark kitchen and you will see how instantly more charming the room is going to look in both cases.
Seamless Cotton Runner Rug
|
Not every runner rug needs to be a diva in a room. Some runners are intended to be seamless and as comfortable as possible without disturbing the concept of the design.
This is exactly the case with this soft white cotton runner that blends with the kitchen so well it becomes a supportive piece that is essential but not too prominent. It works perfectly as a throw rug that is easy to move around.
The subtle red diamond patterns pierce through the entire spiritual design and create a beautiful detail in the room that is unique and charming.
Black Scandinavia Diamond Runner Rug
The black Scandinavia Diamond runner rug is a piece of jewel in itself. It has been hand-tufted in India using 100% wool fibers. As such, this runner rug is very warm and precious and can be placed in dry areas of the kitchen.
Its design features black diamonds on a white background, inspired by Scandinavian decor. Its elegant look and monochrome color scheme are a great choice for any kitchen design.
Extra Long Southwestern Runner Rug
|
A large kitchen needs a long runner to feel complete. This Southwestern-themed rug with repetitive diamonds and a warm color palette is just perfect for a large white kitchen.
It serves as an anchor piece for the decor of the kitchen, bringing together the warm and natural color of the wood with the cool crisp kitchen cabinets.
Navy Mod Trellis Runner Rug
Trellis runners are a classic that will never go out of style. This rug adds vibrancy to any kitchen and offers a Mid-century modern vibe that is charming and colorful.
The 100% polyester composition of the navy mod trellis runner is a very soft layer where you can comfortably stand in front of a sink or stove. Its machine-made weave is very appropriate for a kitchen and other busy rooms.
Boho Runner Rug
|
A white kitchen can become more eccentric with a Boho runner in dark bold colors with a distressed look. This style is quite fitting on hardwood floors.
In addition, the boho runner with a dark navy background and terracotta floral decors is a perfect textile to be placed in front of an oven and cooker top. The dark color scheme remains interesting even when it is splashed or stained.
Blue Striped Tiles Runner Rug
The blue striped tiles runner rug is not only easy to clean but also very bold and dramatic. These features make it a wonderful runner for a kitchen.
The striped tiles design in faint lines over a blue background adds a fresh element to kitchens. It's perfect for white cabinets or even warm wood tones. Also, this rug goes perfectly over hardwood floors as well as tiles.
Kitchen Runner with Tribal Motifs
|
Dark and moody rooms are usually very romantic and comfy but dark kitchens can get a little bit uninspiring at times. The remedy to that is adding a beautiful kitchen runner in light and warm tones.
This plush runner with tribal motifs is a great piece for a dark kitchen in need of some flare. It is versatile and playful, creating a joyful atmosphere that complements the dark tones of the room.
Rust Castle Medallion Washable Runner Rug
Placing a washable runner rug in your kitchen is quite a commodity. Kitchen rugs tend to get stoned very easily, so using one that is lightweight and can be thrown in the washer as needed is a great advantage.
In addition, the rust castle medallion runner is a beautiful piece with a traditional design that adds character to a kitchen. Its warm colors work best with white and cream kitchen cabinets. In addition, its bold look looks perfect when matched with wooden accents such as chairs or benches.
Exotic Kitchen Runner
|
Are you looking to make your home feel more like a resort and less like an urban apartment? If so, add a jute or sisal runner rug in between your kitchen aisles and match it with linen curtains and rattan decor items to emphasize a getaway vibe within your home.
This exotic kitchen runner is natural, eco-friendly, and very unique thanks to its design that integrates subtle tones of grey and black within the earthly beige.
Its material allows hardwood floors to breathe and prevents the creation of moisture and mold. As such, it is a perfect addition in front of a sink or other wet space in a kitchen.
Also see our guide for kitchen rug placement tips (and other rooms).