Our readers support us. This post may contain affiliate links. We earn from qualifying purchases. Learn More
Garden arbors and pergolas stand as testament to the fact that structures are not merely for shelter but can be crafted into forms of art, infusing beauty and function into the landscape of our homes. While both arbors and pergolas are architectural structures that can enhance an outdoor space, they differ in design and purpose, creating unique outdoor experiences.
Arbors, often the more popular choice for smaller gardens, are typically arched and narrower pathways, serving as enchanting entry points that beckon visitors into a world of greenery. Their popularity may be attributed to their versatility and the relatively smaller footprint they occupy, making them ideal for a variety of garden sizes. Pergolas, on the other hand, are larger, flat-topped structures meant to create outdoor living spaces—a room without walls, under the canopy of the sky.
The inclusion of an arbor can significantly elevate the aesthetic appeal and functionality of a garden's design. It is a sculptural piece that offers both a visual anchor and a hospitable embrace to climbing plants. From the simple and understated to the ornate and grandiose, arbors can be seamlessly integrated into any garden style, whether it's to add romance to cottage-style plantings or to introduce geometry to modern landscape designs.
In this article, we explore ideas and designs that capture the imagination and enhance the usability of outdoor spaces.
1. Whimsical Rose Arbor Walkway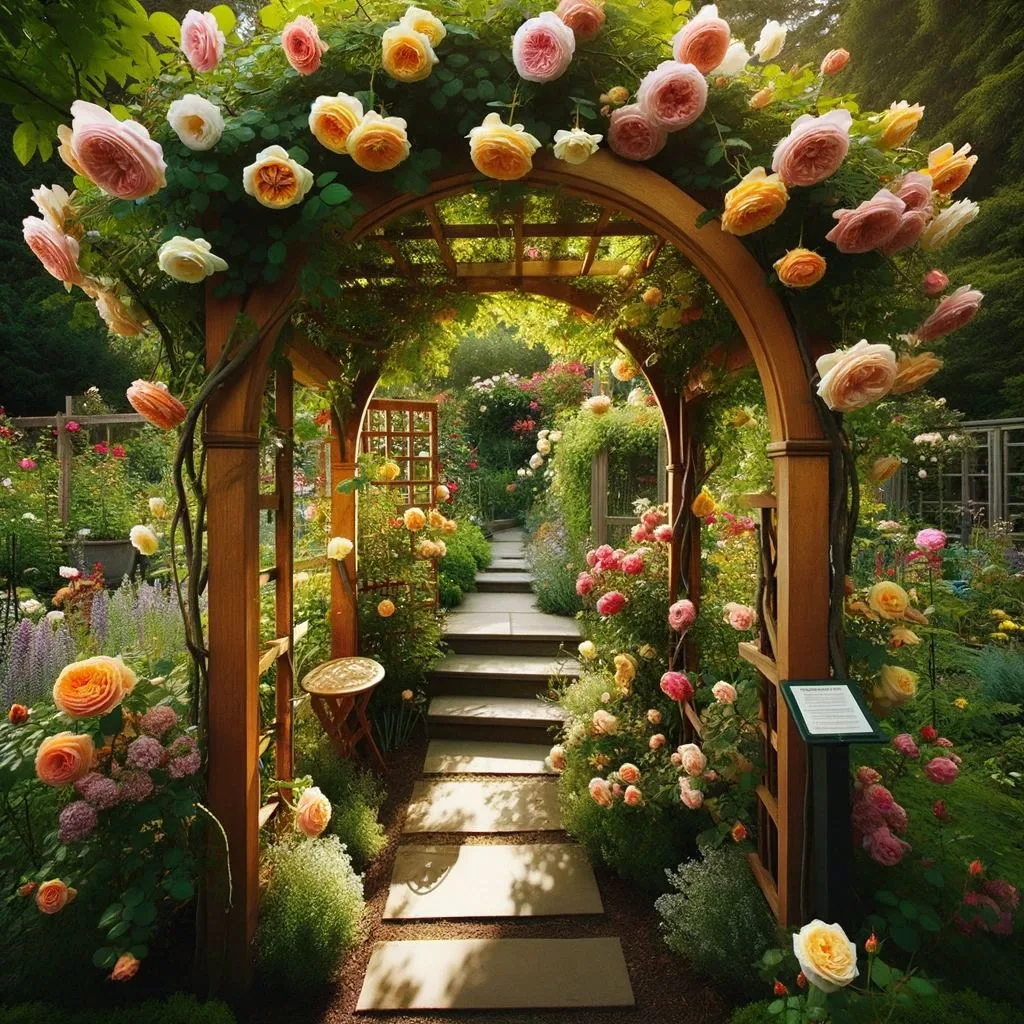 Create an enchanting entrance to your garden with a wooden arbor adorned with climbing roses. As the roses mature, their blooms form a colorful canopy that invites visitors to enter. This arbor serves as a romantic passage that frames the garden beyond and can be a favorite spot for taking photos or enjoying a quiet moment surrounded by the fragrance of roses.
2. Quaint Wooden Arbor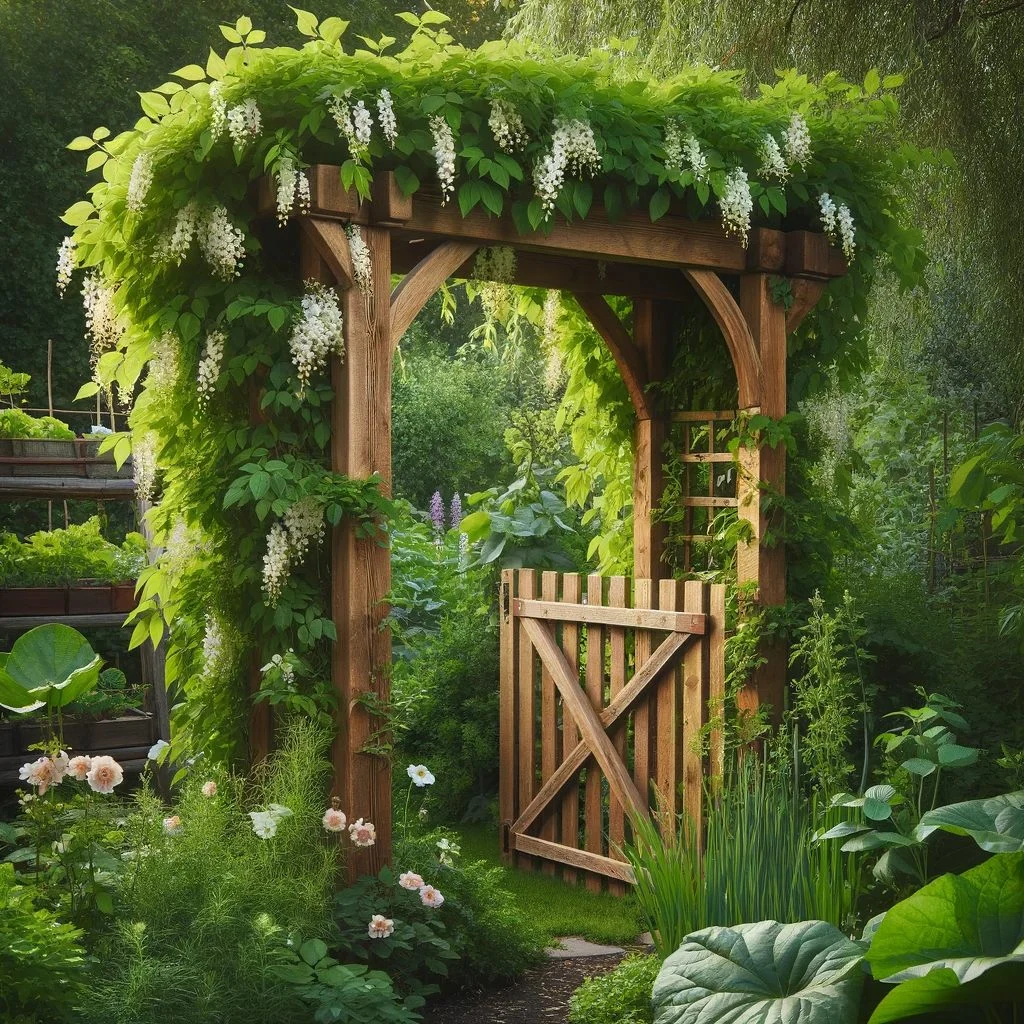 A quaint wooden arbor tucked away in a small garden, providing a rustic charm. This arbor features a simple, sturdy design with crossbeam details and is enveloped by lush climbing plants like jasmine and sweet peas, which hang delicately from the beams. The wooden texture of the arbor complements the greenery, creating a naturalistic and inviting entry point into a vegetable garden or a secluded reading spot. This arbor is the perfect blend of functionality and aesthetic appeal, offering a sense of warmth and tranquility.
3. Cozy Cottage Garden Gateway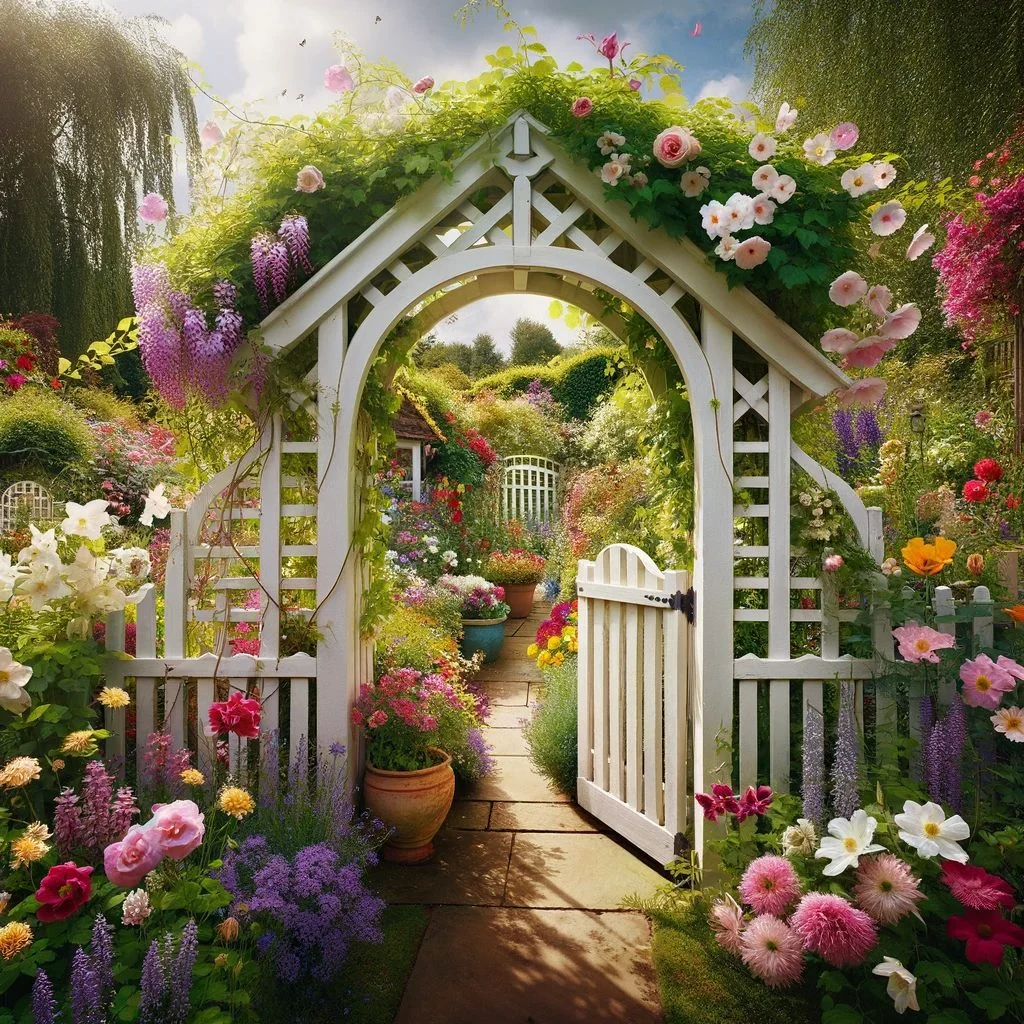 A small, painted white wooden arbor that exudes cottage charm, nestled within a colorful flower garden. Its traditional arched top and side lattice are perfect for supporting a variety of climbing plants such as clematis and honeysuckle, creating a living curtain of flowers and foliage. This arbor acts as a whimsical gateway to a lush cottage garden, inviting visitors to step through and discover the delights of a garden rich with blooms and butterflies. It's a picture-perfect setting for a quaint and tranquil garden escape.
4. Homestead Haven Entryway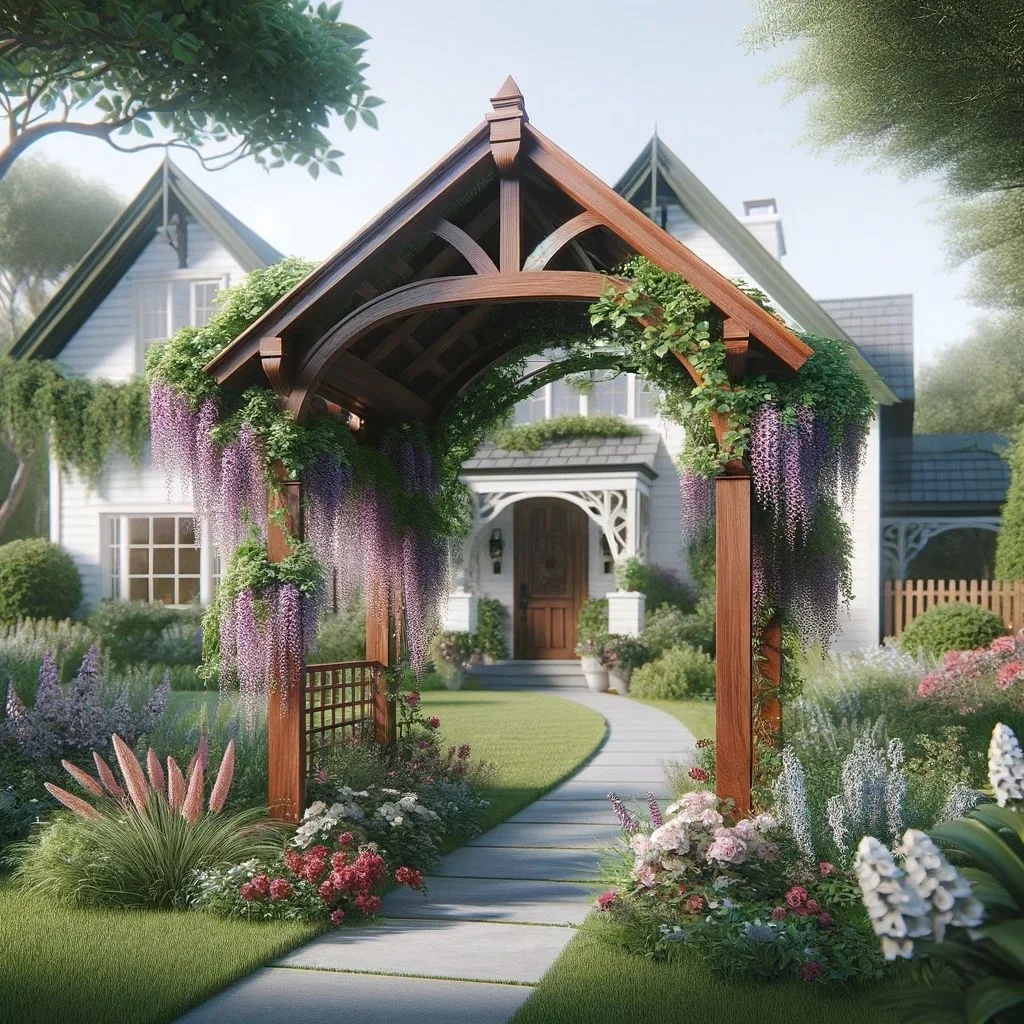 A small, inviting garden arbor set against the backdrop of a cozy house. This arbor is made from varnished hardwood and features a gabled roof design that echoes the house's architecture. Draped with flowering vines like wisteria or bougainvillea, it offers a warm welcome to guests and serves as a beautiful transition from home to garden. The arbor is positioned on a path leading to the house.
5. Countryside Charm Arbor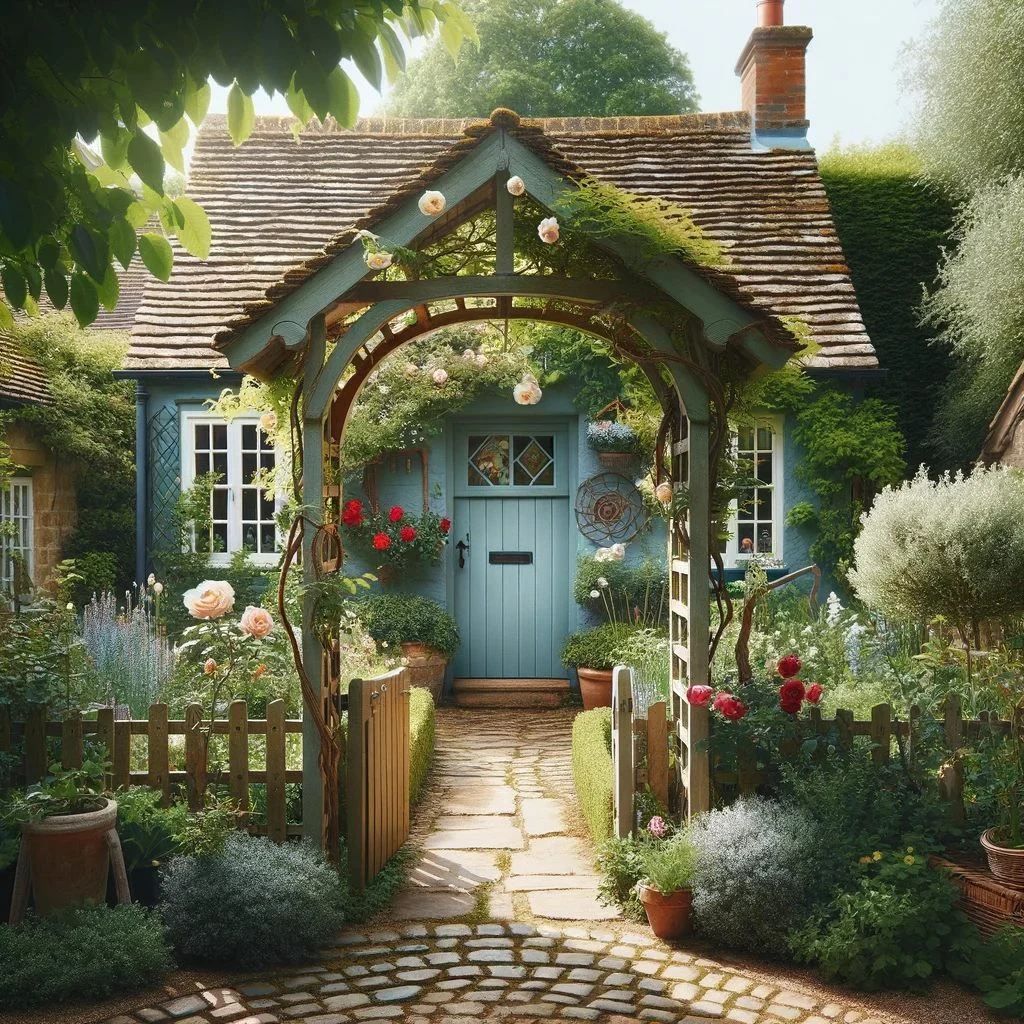 A small, robust wooden arbor at the forefront of a quaint countryside house, painted in a cheerful blue to match the home's exterior. This arbor is adorned with a mix of climbing roses and ivy, offering a burst of color and greenery. It marks the beginning of a cobblestone path that leads up to the welcoming front door, bridging the natural beauty of the garden with the rustic appeal of the house. This arbor is a symbol of the warmth and charm inherent to countryside living.
6. Garden Gateway Arbor
This arbor is a classic wooden structure that marks the entrance to a vibrant garden. Its sides are adorned with a lattice design, perfect for supporting the intertwining stems of climbing roses and clematis. The top of the arbor is lined with hanging baskets filled with trailing petunias, adding a splash of color overhead. It stands as an inviting threshold, promising the tranquility and splendor of the garden that lies beyond.
7. Sleek Garden Metal Arbor
A straightforward and elegant metal arbor, painted in a matte black finish to stand out against the lush greenery of a simple garden. The arbor's design is modern with clean lines that support minimalist climbing frames for plants like ivy or grapevines. It offers an uncluttered and chic entryway into a vegetable patch or flower bed, embodying the principle that less is more. This arbor is perfect for those who seek to combine contemporary design with the timeless appeal of a garden.
8. Homely Backyard Deck Wooden Arbor
A no-frills, sturdy wooden arbor situated close to a house, giving the backyard a homely touch. The arbor's natural wood color blends with the home's exterior, while its simple structure supports a healthy growth of climbing plants like honeysuckle or morning glory. This arbor creates a subtle divide between the house and the garden, providing a cozy nook for morning coffees or evening reads. It's a perfect example of how simple design can enhance the outdoor living space and complement the home's architecture.
9. Restful Garden Arbor Nook
A charming garden arbor made of weathered wood, incorporating a built-in bench for rest and contemplation. This arbor is enveloped by flowering vines, providing a scented, shaded retreat in the garden. The bench invites visitors to sit and enjoy the surrounding floral display, offering a peaceful spot for reading or enjoying a cup of tea. The arbor with its bench becomes not just a walkway, but a destination in itself, a perfect blend of function and beauty.
10. Charming Garden Arbor Covered in Greenery
A charming, diminutive garden arbor, stands quaintly amidst a bed of lush foliage. It's constructed from weathered wooden slats that blend naturally with the garden's aesthetic. The arbor is covered by dense greenery, with a variety of climbing plants, such as ivy and honeysuckle, interwoven through its structure. The surrounding area is a tapestry of low-growing ferns and mosses, with the occasional bloom of wildflowers adding splashes of color to the verdant scene.
11. Classic Garden Arbor Hedge
A meticulously trimmed hedge forming the backdrop for a classic garden arbor. The hedge, lush and dense, stands about six feet tall, with the arbor's entrance cut directly into it, creating a natural doorway. The arbor itself is made from ornate wrought iron, painted white, and is embraced by climbing roses and ivy, with their foliage and flowers spilling over the top.
12. Elegant Wooden Arbor on a Polished Wooden Deck
A small, elegant garden arbor on a polished wooden deck, featuring a cozy integrated seat for relaxation. The arbor is crafted from cedar wood with a natural finish, and its sides are adorned with lattice work perfect for supporting climbing vines. Comfortable seating is built into the structure, complete with plush cushions for added comfort. Potted ferns and flowering plants are arranged around the arbor, creating a charming and inviting outdoor space.
13. Picturesque Wooden Pathway Arbor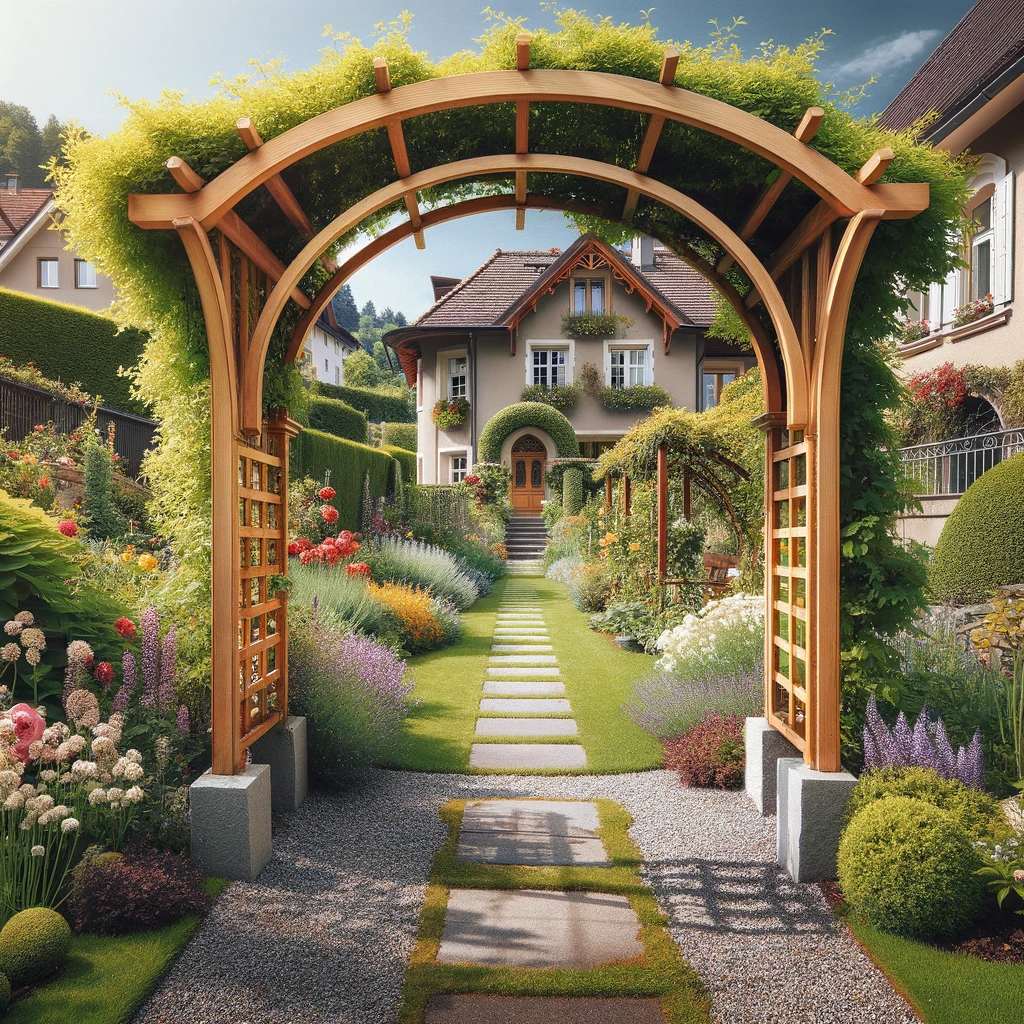 A picturesque pathway arbor located in a well-manicured garden, with the charming facade of a house in the background. The arbor stands at the beginning of a stone pathway, its structure made of a light-colored wood with a classic arched design. Small flowering climbers adorn the sides of the arbor. The path lined with colorful flower beds leads towards a cozy house, visible in the distance, exuding warmth and inviting one to explore the beauty of the garden and the home beyond.
14. Wedding Garden Arbor
A garden arbor designed for a wedding, standing majestically at the end of an aisle lined with white rose petals. The arbor is draped elegantly with billowing white chiffon, and adorned with a lush arrangement of white flowers, such as roses, peonies, and wisteria, interspersed with delicate greenery. The structure itself is made of white-painted wood, with intricate carvings that add a touch of romantic sophistication. It stands as a stunning centerpiece in a garden setting, ready to frame the memorable moment of a couple's vows.
15. Elegant Path Garden Arbor
An elegant garden arbor, constructed of natural wood, stands at the entrance to a lush garden with the backdrop of a beautiful country house. The arbor features a classic design with a gently arched top and side lattice panels for climbing plants. It marks the start of a cobblestone pathway leading through the vibrant garden filled with a variety of flowers and greenery, towards the warmly lit house in the distance. The house, with its rustic charm, complements the naturalistic style of the garden, creating a picturesque scene of tranquil domesticity.
16. Arbor Attached to the House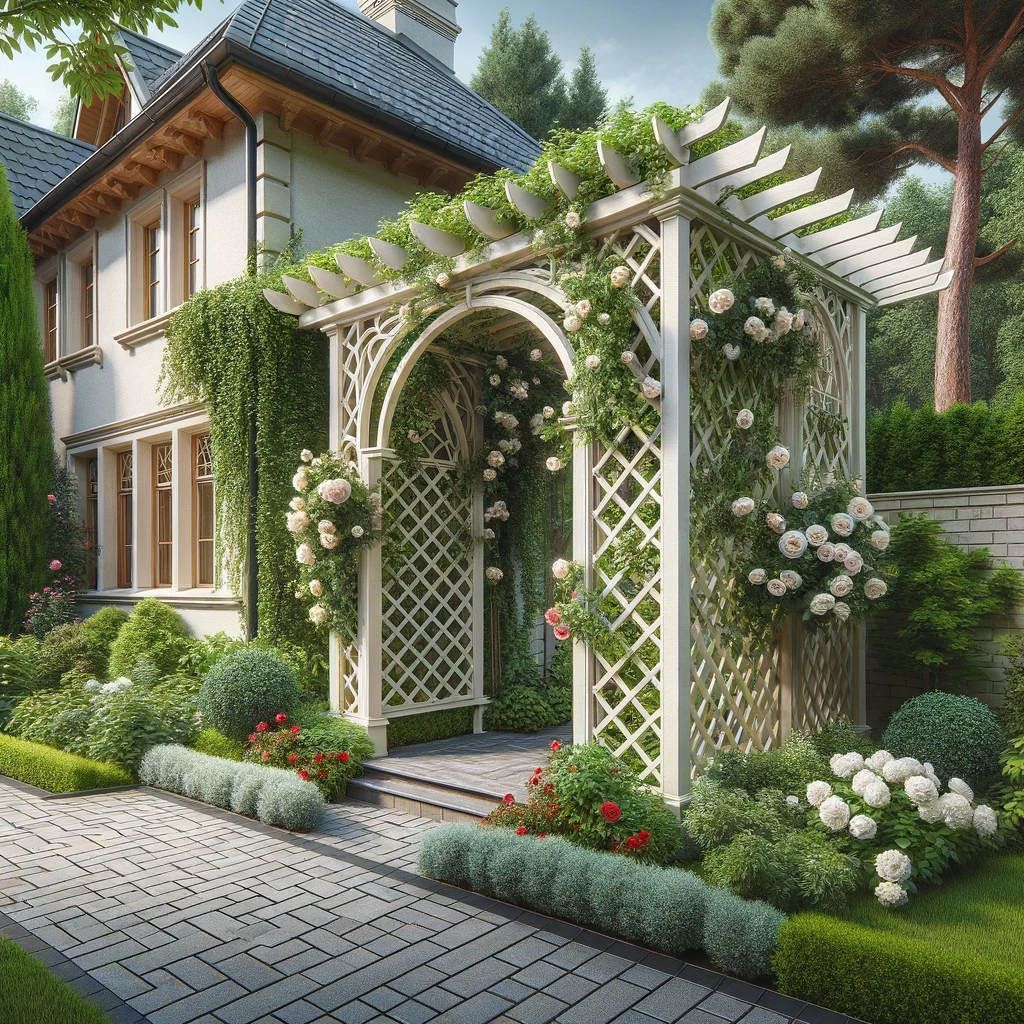 A quaint garden arbor seamlessly attached to the side of a cozy house. The arbor, crafted from white-painted wood, features an elegant trellis design that complements the home's exterior. It supports a lush curtain of climbing roses and ivy, which adds a touch of romance and privacy to the house's side entrance or garden door. The ground below is adorned with a classic herringbone brick path, and the surrounding area is landscaped with a mix of perennials and shrubs, marrying the architecture and the garden in a harmonious design.
17. Cozy Garden Arbor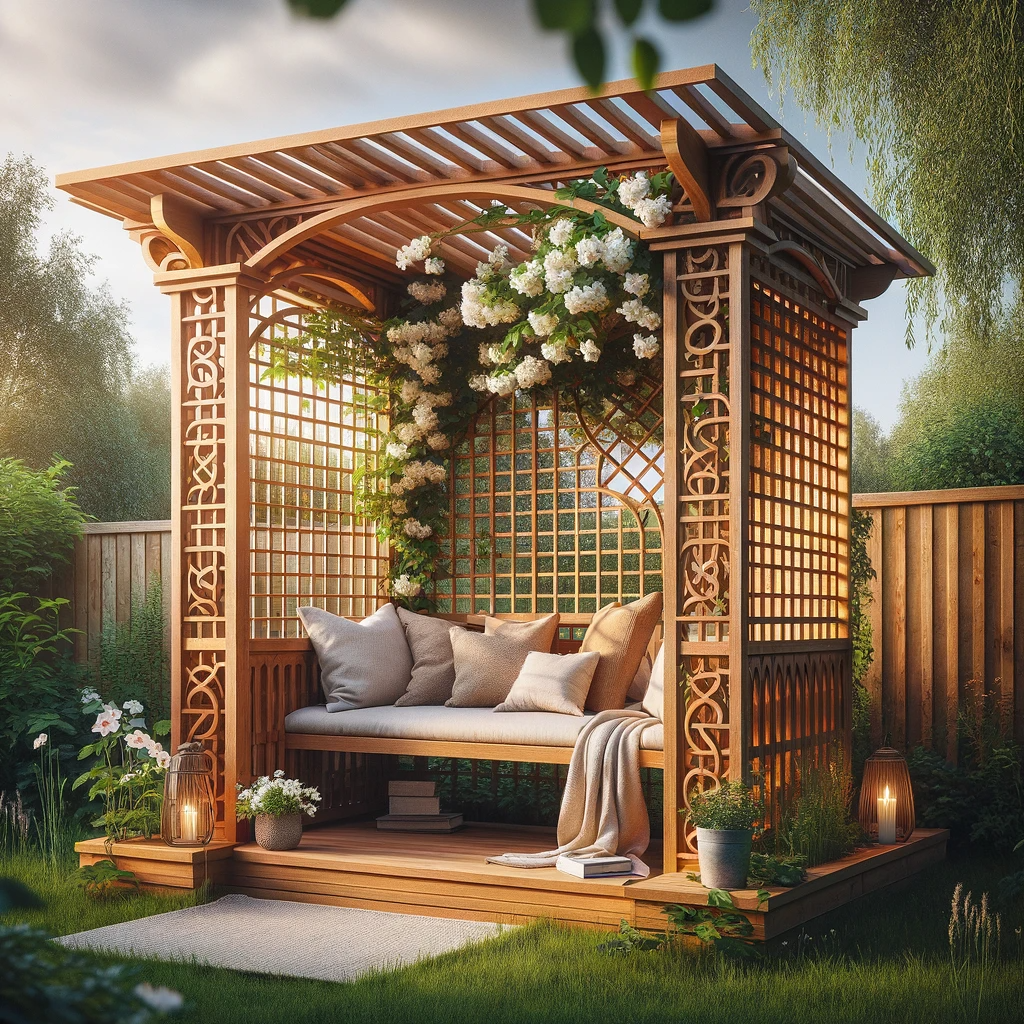 A cozy garden arbor that doubles as a reading nook, featuring a comfortable built-in bench. The arbor is crafted from warm, natural wood with a lattice design on the sides to support climbing plants like jasmine or morning glory. A sturdy bench is integrated into the structure, fitted with plush cushions and throw pillows to provide the perfect spot for reading and relaxation. Overhead, the arbor's slatted roof allows for a play of light and shadow, creating an inviting atmosphere. The surrounding area is peaceful, with soft grass and a few scattered wildflowers, making it an idyllic retreat.
18. Unique and Elegant Backyard Arbor
A unique and elegant backyard arbor, surrounded by a lush garden. The arbor is made of intricately designed wrought iron, with delicate scrollwork and floral motifs. Vines with blooming flowers are climbing up its sides, and there are hanging potted plants with colorful blooms. The arbor leads to a cozy seating area with cushioned garden chairs and a small table, nestled under the shade of a large tree. Soft lighting is provided by lanterns hanging from the arbor and tree branches, creating a serene and inviting atmosphere.
19. Mediterranean Oasis-style Backyard Arbor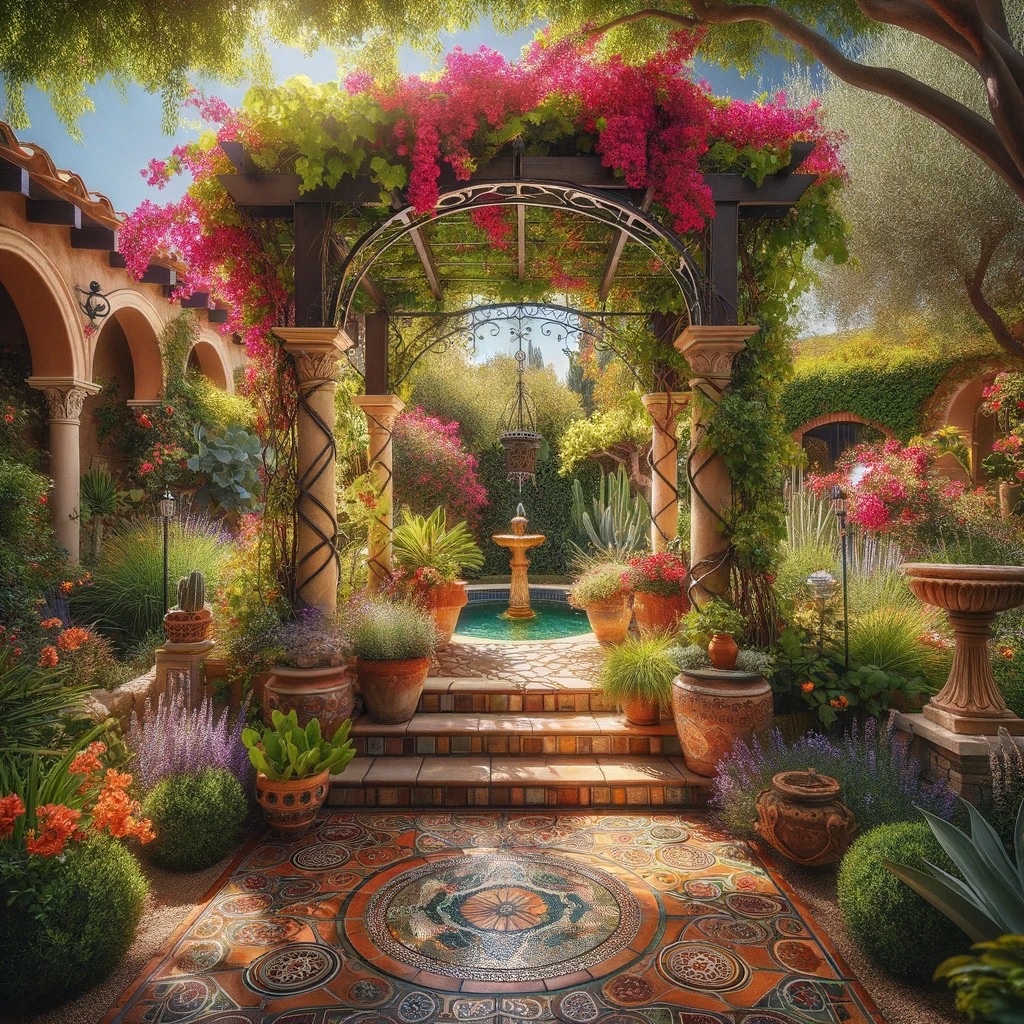 The path leading to the arbor is adorned with terracotta and mosaic tiles, exuding warmth and rustic charm. The arbor itself is crafted from wrought iron or stone, creating an elegant and sturdy structure. Lush grapevines and bright bougainvillea climb over the arbor, providing dappled shade and a burst of color. Near the arbor is a small, ornate fountain or birdbath, contributing to the tranquil ambiance with the gentle sound of water. The setting is completed with Mediterranean plants and flowers, enhancing the sunny retreat atmosphere.
20. Asian-inspired Backyard Arbor
The arbor overlooks a tranquil koi pond surrounded by smooth pebbles and edged with natural rocks. Graceful wisteria or jasmine plants cascade from the arched roof, their flowers adding a delicate fragrance to the air. Stone lanterns of varying heights are placed thoughtfully around the pond, casting a warm light that dances on the water's surface. Lush bamboo stands sentinel around the perimeter, enhancing the sense of seclusion and peace in this garden retreat.
Green Living Arbor
A green living arbor with a graceful arch shape. The structure is made of sustainable materials such as recycled wood or metal, with a green roof densely planted with hardy sedums and other low-maintenance succulents. The arched design is practical for supporting plant growth while also providing shade. The seating area beneath the arbor features simple, elegant wooden benches with comfortable cushions, inviting relaxation.
Elegant Metal Entryway Arbor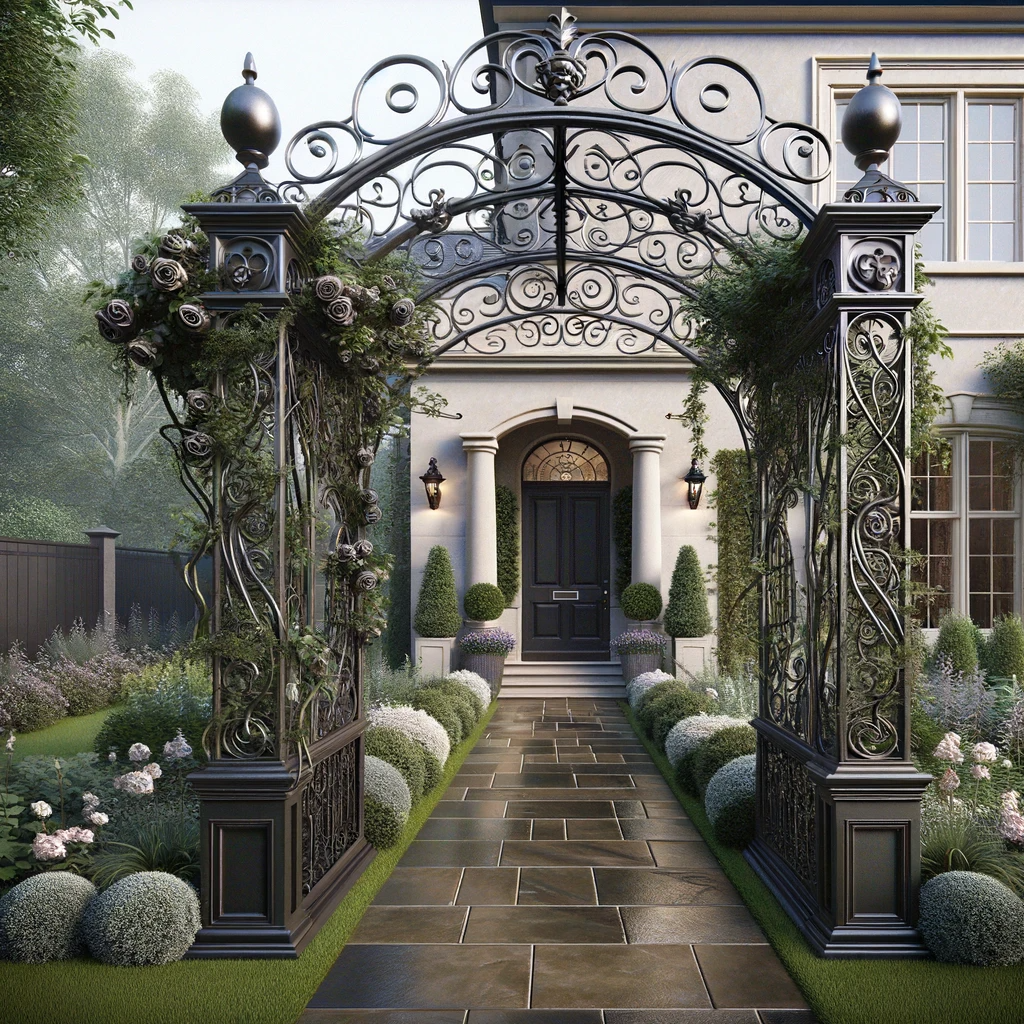 An elegant metal arbor creating an entryway to a house. The arbor features a sophisticated design with ornamental metalwork, including scroll details and finials, finished in a classic black or dark bronze to give it a timeless appearance. The pathway under the arbor is paved with natural stone, leading directly to the front door. On either side of the arbor, there are well-manicured shrubs and perennials, adding to the elegant entrance. The arbor is designed to support climbing roses or ivy, which are starting to weave through the metalwork, adding a touch of greenery and blooms to the metal structure.
23. Elegant Arbor Attached to the Side of a House
An elegant arbor attached to the side of a house, crafted from wrought iron or painted wood. The arbor has a refined design that complements the house's architecture, with intricate lattice work for climbing plants. It extends from the wall of the house, creating a cozy nook for seating. Climbing plants such as roses or ivy are beginning to twine around the structure, blending the arbor naturally with the house facade.
Read more: