Our readers support us. This post may contain affiliate links. We earn from qualifying purchases. Learn More
You might think that you can pick out any bathroom mat, put it in front of your vanity or bathtub, and call it a day – but you would be wrong.
You see, when it comes to spaces like bathrooms, scale and proportion are everything. The rug you choose can't be too big, and it can't be too small either. It must complement the dimensions of the space without looking out of place.
How Big Should a Bathroom Rug Be?
For standard-sized bathrooms (i.e., 40 square feet [8'x5′]), a bath mat of 24″ x17″ would be the ideal choice.
A square-shaped 6'x6′ bathroom will look good with both a 24″ x17″ and 24″ x30″ square-ish bath mat.
On the other hand, a luxury bathroom with bigger dimensions ranging between 8'x8′ to 10'x12′ will look good with small rugs sized 3'x5′ or 4'x6′ depending on the layout.
If you're looking for a more comprehensive guide for choosing the perfect bath mat, then you're at the right place. Let's take a look:
Standard Bath Mat Sizes
16"x23"(1.3' x 1.9')
A 16 "x23" mat is quite possibly the smallest bath mat size you'll encounter in the market. It's ideally suited for bathrooms that lean on the smaller size.
It's perfect for putting under a pedestal sink, a corner shower stall, or even in front of your bathroom door. Some people also use multiple sizes – one for under the sink and one for the front of the tub or shower stall.
24"x17" (2'x1.4')
A 24 "x17" mat is another standard bath mat size that is suitable for smaller bathrooms. You can place it under your vanities or pedestal sinks or furnish it in front of the tub or shower stall.
21"x34" (1.75' x 2.8')
This slightly bigger-sized bath mat is perfect for putting in front of oversized bathtubs and bigger shower stalls. It can also feature beside a moderately sized vanity.
20"x30" or 24"x30" (1.6' x 2.5' or 2' x 2.5')
This standard mat size is also perfect for featuring in front of bathtubs and luxury shower stalls. You should pick one in a plush, luxurious style and color scheme to complement the size of your bathroom.
24"x40" (2' x 3.3')
This bathroom mat leans on the long side and is perfect for spaces with bigger proportions. It's ideal for being furnished in front of oversized jacuzzies or soaker tubs.
You can even get one in an oriental design and pair it up with a stylistic clawfoot tub. These can also be placed in front of luxury shower stalls and double vanities.
27"x48" (2.25' x 4')
This area rug size is specially designed for large luxury bathrooms. They require a lot of room to truly shine, and if you place them in a cramped space, they'll make your bathroom look crowded and heavy.
Ideally, they should be placed at the foot of a jacuzzi or an oversized soaking tub. You can also furnish it in front of a classic clawfoot. You can even place it in front of a big Italian shower stall.
What Size Rug Do I Need for a Vanity?
The rug needed for your vanity depends on its size. A standard vanity can be paired with a 16″ x23″ (1.3′ x 1.9′) or a 24″ x40″ (2′ x 3.3′) rug.
Below, we've listed several standard vanity sizes and which rugs you can pair with them:
Vanity Size: 2.75' x 1.9' (33" x 23")
You can opt for a 16″ x23″ (1.3′ x 1.9′) bath mat for a vanity that spans 2.75 feet wide.
However, if your bathroom is large and the vanity is still this size, then you can even go for a 24″ x40″ (2′ x 3.3′) sized rug. Do make sure that your bathroom is oversized for this rug size to work well.
Vanity Size: 3.25' x 1.9' (39" x 23")
The 3.25′ width of this vanity would pair well with a 24″ x40″ (2′ x 3.3′) rug. If your bathroom leans on the oversized side, you can also opt for a 27″ x48″ (2.25′ x 4′) rug.
However, a simple bath mat of 16″ x23″ (1.3′ x 1.9′) would also do if your bathroom is small.
Vanity Size: 4.25' x 1.9' (51" x 23")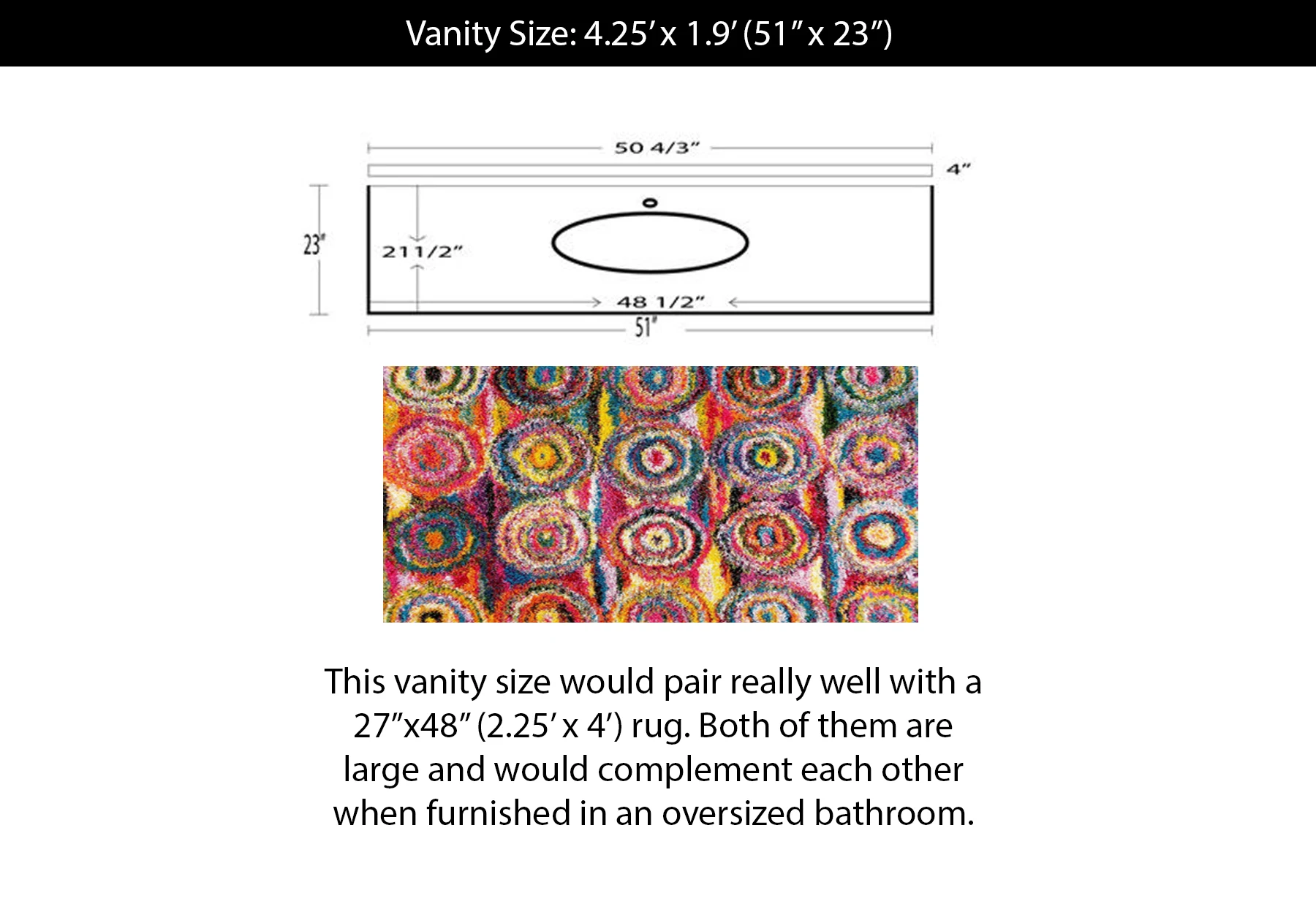 This vanity size is excellent for large bathrooms and would look good with a 27″ x48″ (2.25′ x 4′) sized rug.
Vanity Size: 5' x 1.9" (62" x 23")
This size is usually reserved for double vanities, and you can complement it with a 27″ x48″ (2.25′ x 4′) sized rug.
Alternately, you can choose two smaller 16″ x23″ (1.3′ x 1.9′) bath mats and place them in front of each sink. However, if you only have one sink on a 5′ slab, then it's best to opt for the 27″ x48″ (2.25′ x 4′) or 24″ x40″ (2′ x 3.3′) rug size.
Design Considerations for Choosing the Perfect Bath Mat/Rug
The following are the things you must keep in mind before buying your bathroom rug:
What Shape Rug Will Suit the Bathroom Space?
Bath mats come in many shapes. Rectangles may be timeless and evergreen because of their easy workability, but you should also look at circular, elliptical, half-circle, and even abstract shapes.
These require you to get a little creative with the placement, but they can certainly emulate a certain uniqueness within your ambiance.
How Many Rugs in a Bathroom?
The placement and workability of bath mats and rugs are not set in stone. You can always experiment with different options.
Some people like to opt for multiple bath mats (one for the sink and one for the tub or shower), while others like having a single oversized rug to cover the middle area.
However, it would be best to always respect your bathroom dimensions' integrity before letting your creative juices flow. Don't crowd the space with too many rugs or underfurnish it for fear of doing too much.
Respect Your Floor Space
Knowing the dimensions of your floor space is imperative when you're selecting a rug or mat for your bathroom.
You should measure every nook and cranny so that you won't end up buying a rug that's either too large or small for your bathroom.
What Color Rug for the Bathroom?
Solid colors are a popular choice, but exotic and modern designs can also be used to contemporize the whole space. You can even match it with your shower curtain to achieve a holistic effect.
Your bathroom rug is the perfect way to introduce some style and flair into the space. It can be a tool to carry the overall theme of your home into the bathroom, or even just the color scheme of your bedroom could be reflected in it.
What Material for a Bathroom Rug?
The material of your bathroom rug must be durable as it would be exposed to water most of the time.
Cotton is a popular and highly absorbent material. It's long-lasting and the best part: it tends to dry pretty quickly. Egyptian cotton rugs are especially popular as they're even softer than regular cotton.
You can also choose from other materials like chenille. They might not be as soft, but they're certainly very resilient against water. They're also highly long-lasting.
What About Safety Measures for a Bathroom Rug?
Lastly, you must always keep safety in mind while selecting your bathroom rug. It should be non-slip and anti-bacterial. You can even opt for ones that have memory foam for extra support and comfort.
If you're into sustainability, then you should opt for eco-friendly materials.
See more:
This is everything you need to know about choosing the perfect rug for your bathroom. We hope this guide helps you pick out the best one for your own home.