Our readers support us. This post may contain affiliate links. We earn from qualifying purchases. Learn More
Creating a backyard oasis that combines the luxury of a hot tub with the enchantment of night sky views is a dream for many homeowners. In this comprehensive article, we dive into 20 innovative and stylish ideas for ensuring privacy in your backyard hot tub area, all while maximizing your enjoyment of the starlit skies.
From strategically placed lush greenery and elegant pergolas to modern privacy screens and creative lighting solutions, these ideas cater to a variety of tastes and backyard sizes.
Whether you're looking for a serene retreat to unwind under the stars or a cozy, secluded spot for intimate gatherings, our curated list provides inspiration and practical advice to transform your backyard into a celestial haven.
1. Fenced Oasis with Star Gazing Roof
Create a fenced enclosure around your hot tub for privacy. On the roof, install a transparent, retractable cover made of glass or clear plastic, allowing you to gaze at the stars while maintaining privacy. Include soft, ambient lighting around the enclosure for a cozy atmosphere.
2. Vertical Garden Screens
Erect tall screens around your hot tub, covered in vertical gardens. Choose plants that thrive in your local climate. This green wall not only ensures privacy but also creates a natural, serene environment. Position the screens to allow an open view of the night sky.
3. Pergola with Adjustable Louvers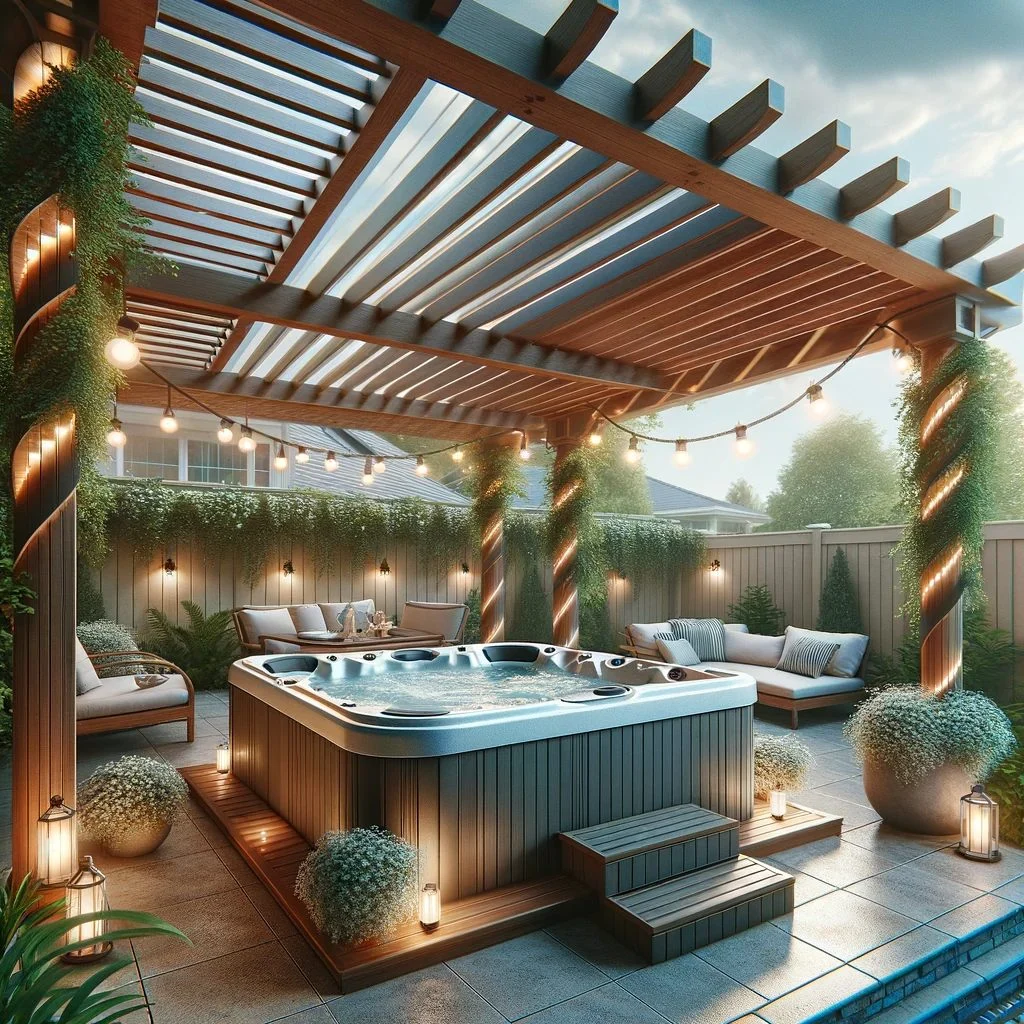 Build a pergola over your hot tub with adjustable louvers. These louvers can be tilted for privacy or opened for a clear view of the sky. Enhance the pergola with climbing plants and string lights for a magical evening setting.
Read more: Pergola Decorating Ideas and Pergola Lighting Ideas
4. Bamboo Enclosure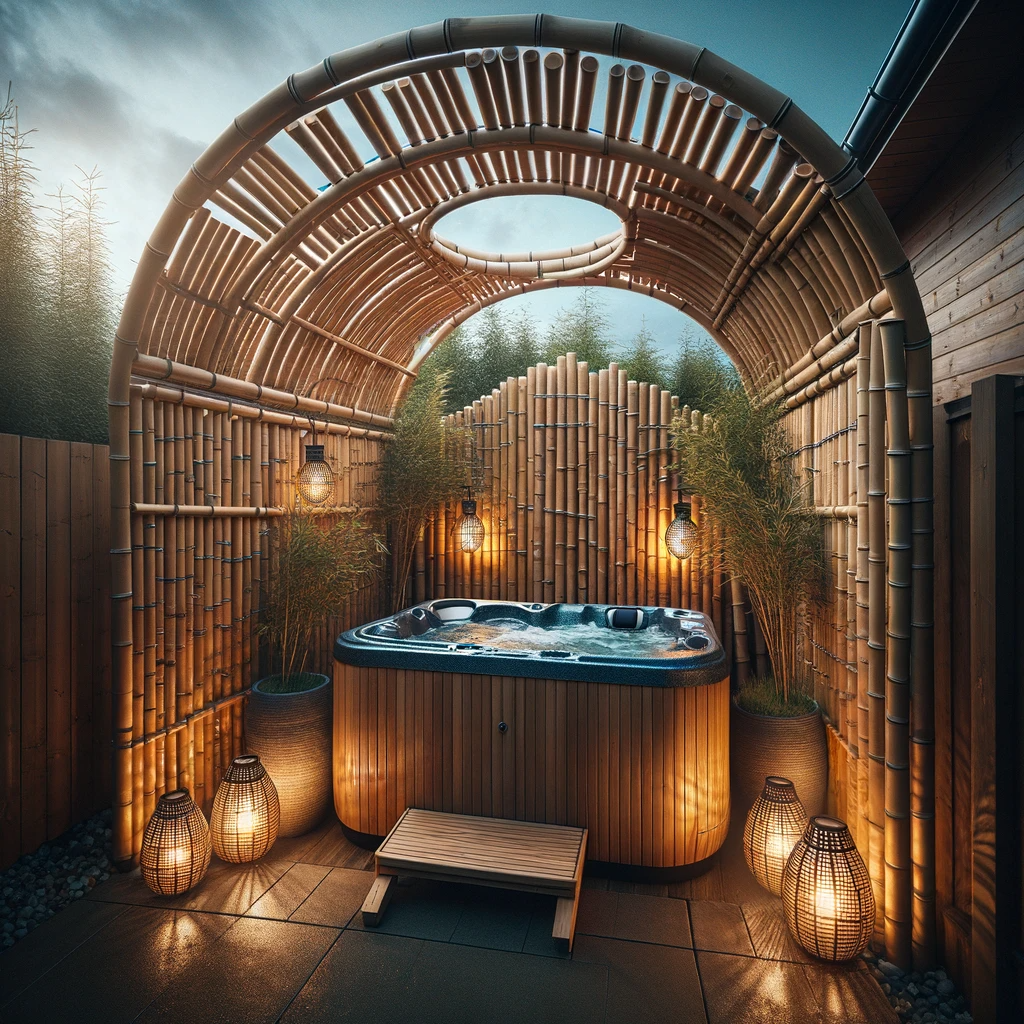 Surround your hot tub with a bamboo fence for a quick and natural privacy solution. Leave an opening overhead for sky viewing and add solar-powered lanterns for a warm glow at night.
5. Canvas Sail Canopy
Install a canvas sail canopy above your hot tub. Choose a design that can be easily retracted for star gazing. The canopy provides both privacy and protection from the elements.
6. Lattice Screen with Hanging Vines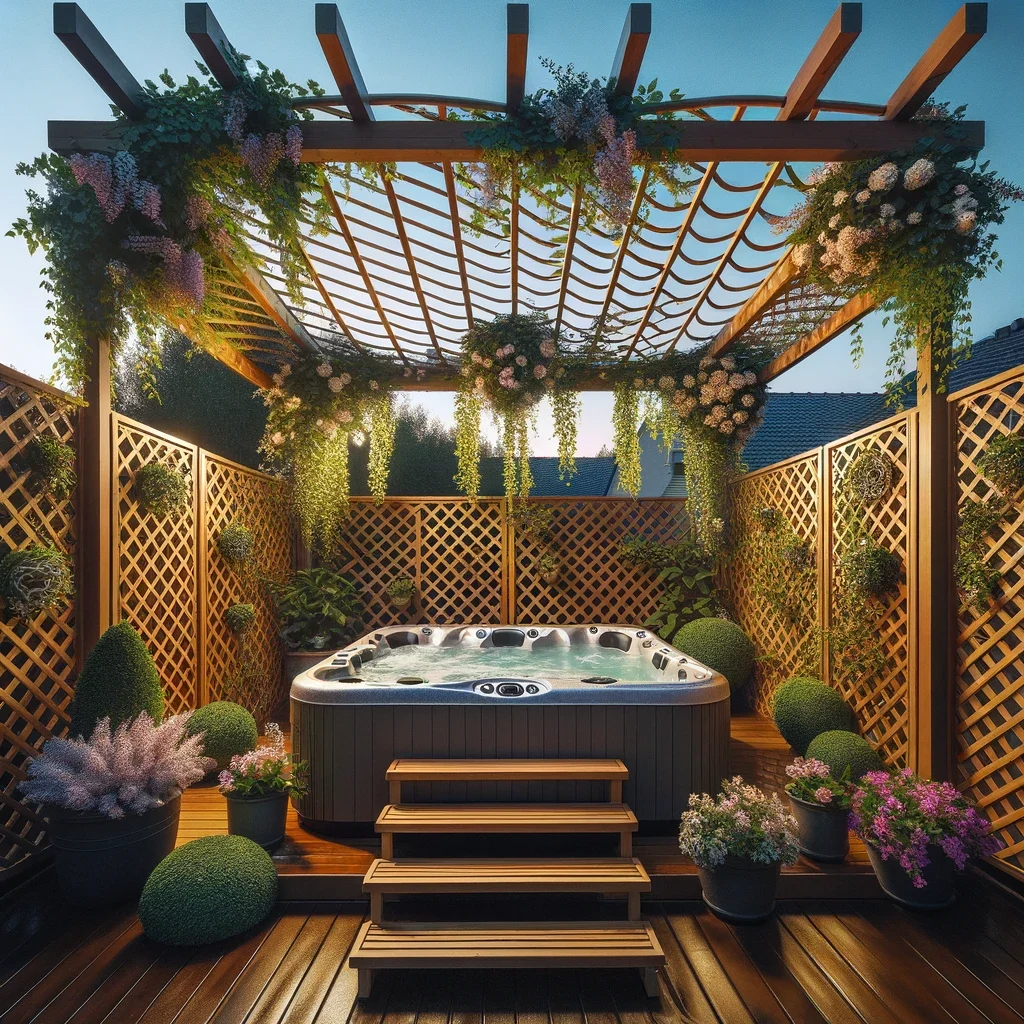 Use lattice screens around your hot tub, and adorn them with hanging vines or flowers. The lattice offers a combination of privacy and open views, perfect for enjoying the night sky.
7. Wooden Slatted Roof
Build a wooden slatted roof over your hot tub. The slats should be spaced to provide privacy while still allowing glimpses of the stars. Add weather-resistant cushions and throws for comfort.
8. Freestanding Privacy Panels
Use freestanding privacy panels that can be moved as needed. Panels with frosted glass or intricate designs add an artistic touch while preserving your view of the sky.
9. Gazebo with Sky Dome
Construct a gazebo around your hot tub, featuring a clear dome in the center for sky watching. The gazebo walls ensure privacy, while the dome offers an unobstructed view of the heavens.
10. Hedged Retreat
Plant a hedge around your hot tub area for a living privacy wall. Choose fast-growing, tall plants and trim them regularly to maintain your desired shape and height.
11. Curtained Cabana
Create a cabana-style space with curtains that can be drawn for privacy. Use weather-resistant fabric and ensure there's an open section above for star gazing.
12. Trellis with Climbing Roses
Install a trellis around your hot tub and grow climbing roses or other flowering vines. This not only provides privacy but also adds a romantic ambiance, especially under the night sky.
13. Stone Wall Enclosure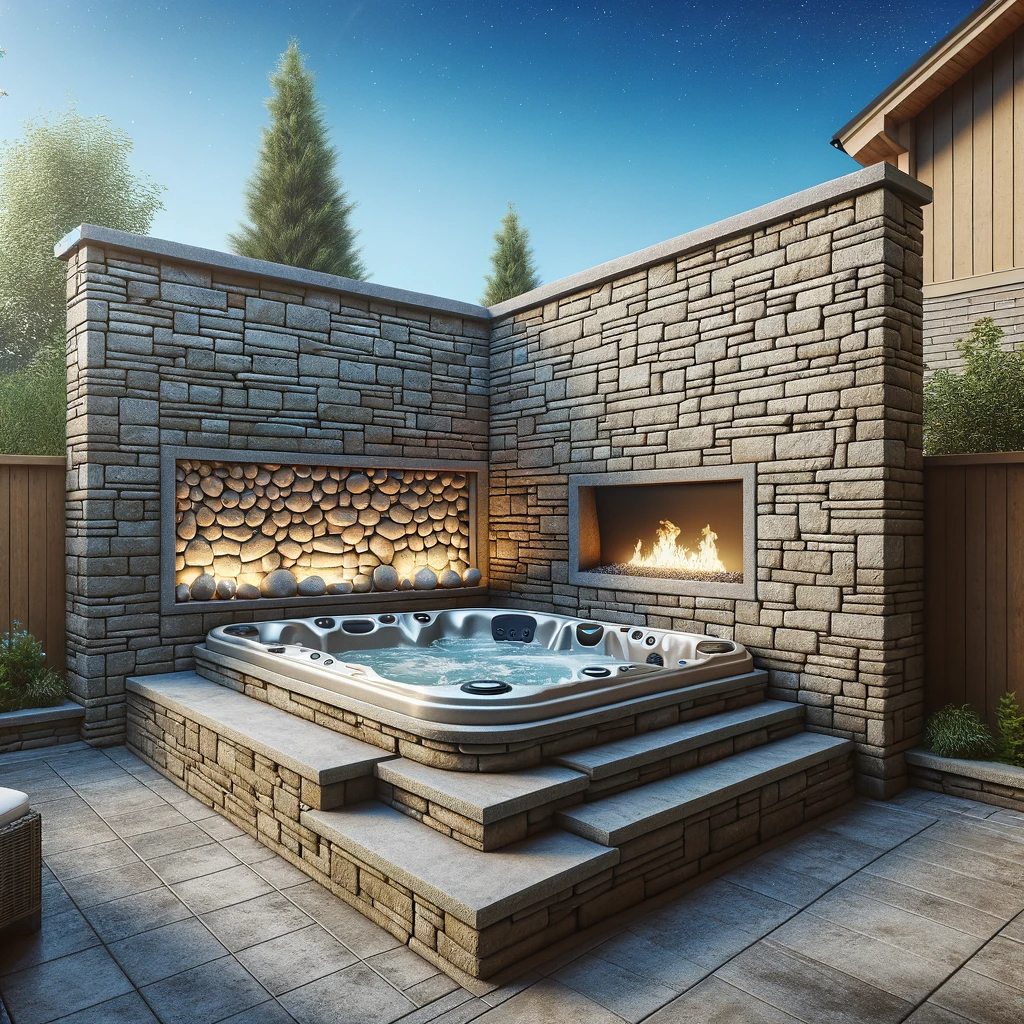 Build a partial stone wall enclosure around your hot tub, leaving the top open for sky viewing. Integrate a fireplace or fire pit into the wall for extra warmth and light.
14. Retractable Awning
Install a retractable awning over your hot tub. This can be extended for privacy or retracted on clear nights for a perfect view of the stars.
15. Mirror Wall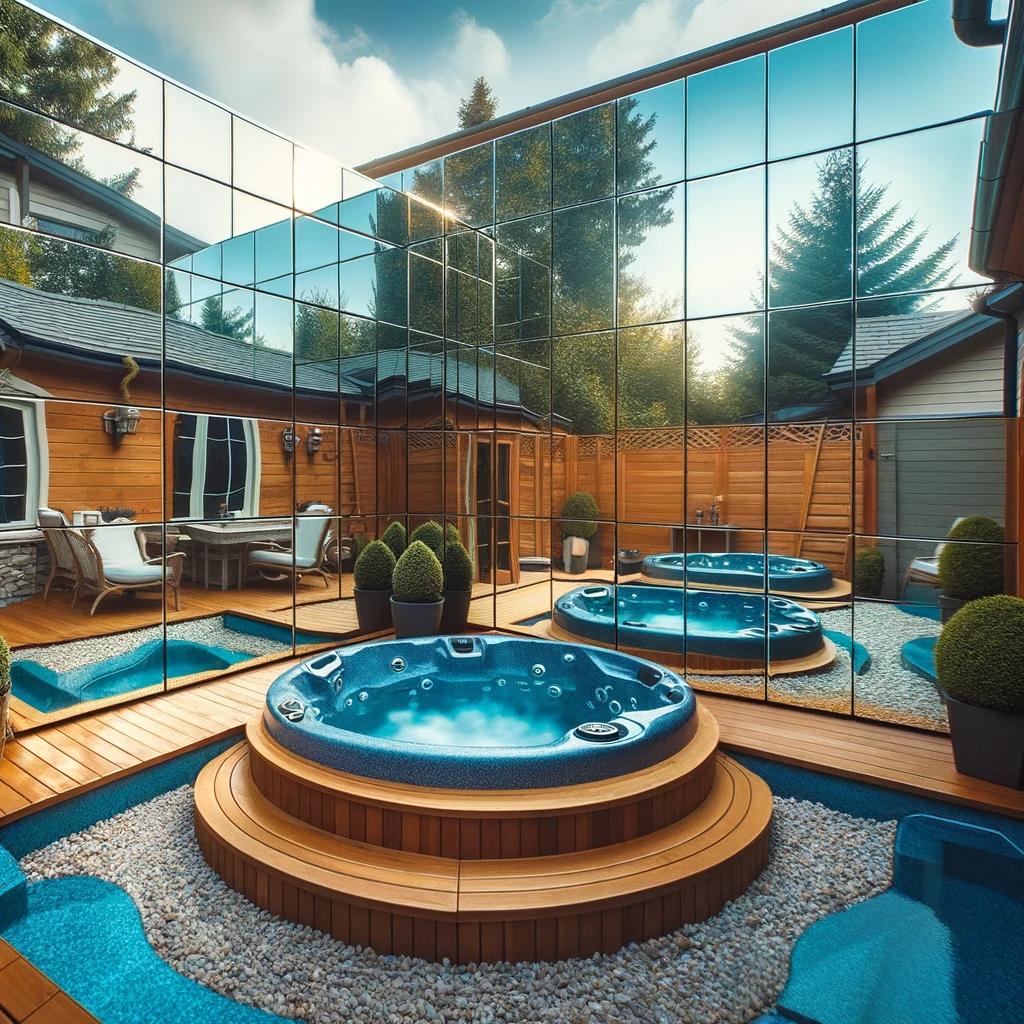 Erect a mirror wall on one side of your hot tub. It provides privacy, reflects light for an atmospheric effect, and doesn't obstruct the upward view.
16. Outdoor Drapery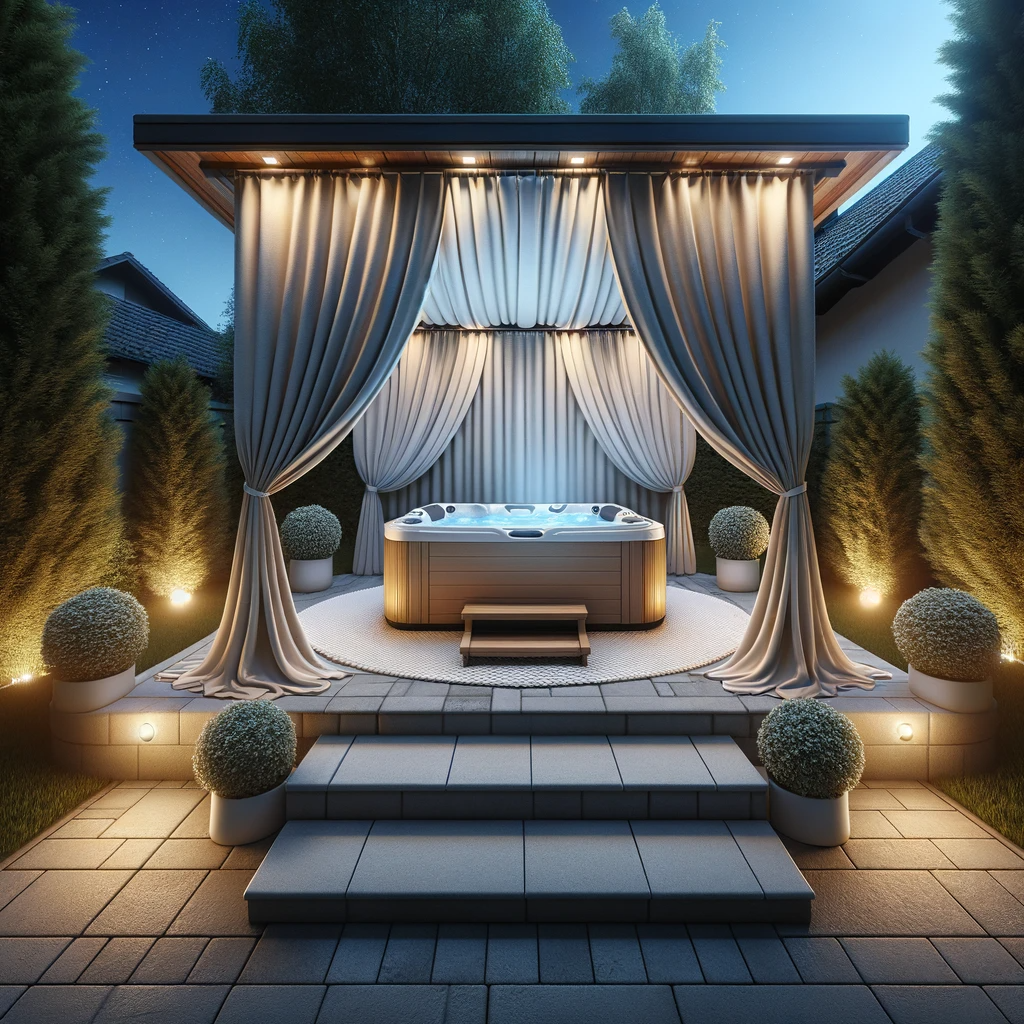 Hang outdoor drapes around your hot tub. Choose a lightweight, waterproof fabric that can be easily pulled back to reveal the night sky.
17. Glass Fence with Etched Designs
Install a glass fence around your hot tub with etched designs for privacy. The transparent nature of the glass keeps the area open to the night sky.
18. Rustic Wooden Fence
Build a rustic wooden fence with gaps between the boards. The fence provides privacy while still allowing glimpses of the stars above.
19. Living Willow Fence
Create a living willow fence around your hot tub. This natural barrier grows tall and dense, offering privacy and a unique, organic look.
20. Mosaic Tile Wall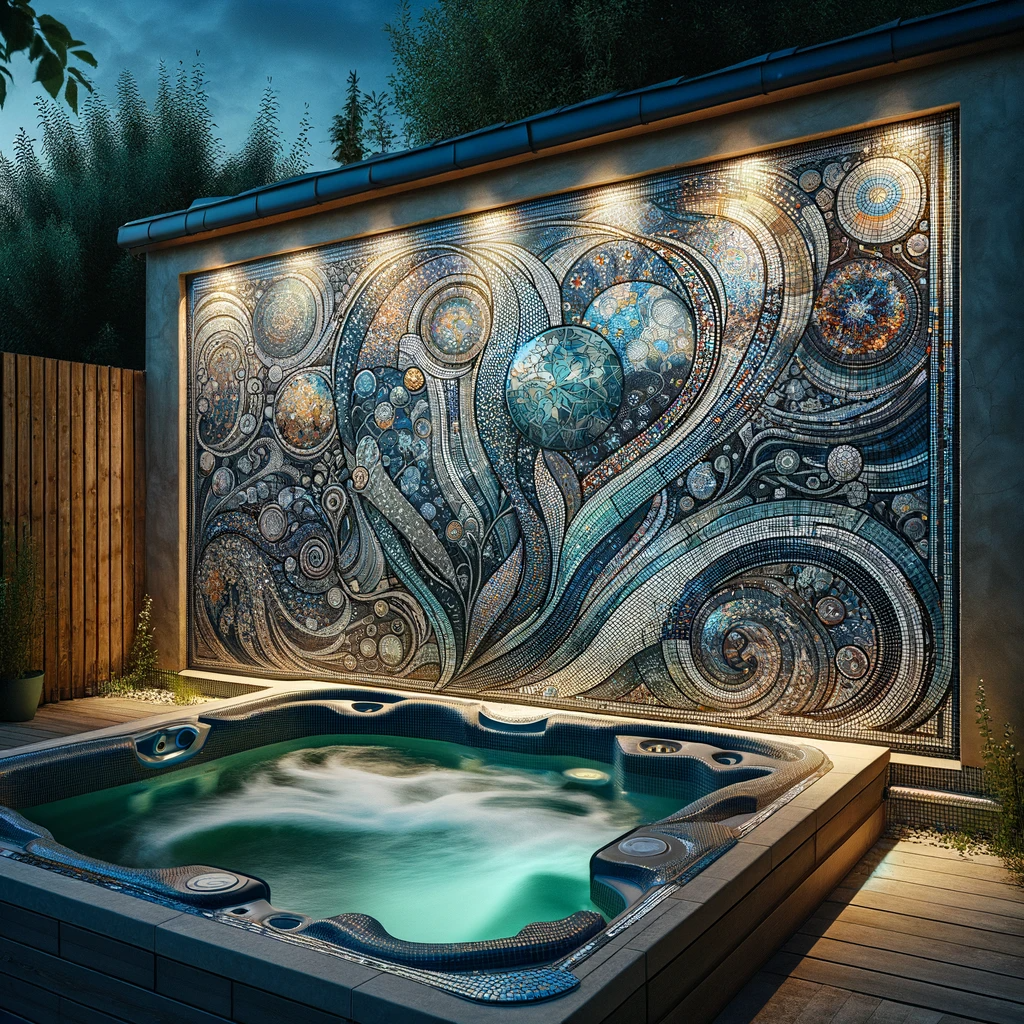 Construct a wall with mosaic tiles around your hot tub. The tiles can feature reflective surfaces to catch the light, creating a beautiful ambiance at night while maintaining privacy.
Read more: