Our readers support us. This post may contain affiliate links. We earn from qualifying purchases. Learn More
The 70s have left a mark in world history thanks to their peculiar yet charming style. This is apparent not only in fashion but also in interior design and, of course, rugs.
As the name suggests, 70's rugs span the timeframe of 1970-1979. You can identify these rugs by a laid back and very spontaneous playful look.
Nowadays, you might find 70s rugs also referred to as vintage or retro, displaying an elegant and old fashioned style.
Repetitive geometric patterns and curvy lines are just some of the main patterns that characterize 70's inspired rugs. In addition, you can also see paisley and graphic textures throughout many 70s rugs.
Often considered hippie style rugs or bohemian, 70's rugs are made in high pile wool or cotton and have a distinct shag character.
You can place a 70's rug in a living room, dining room, bedroom, or even bathroom. In addition, you can use it to accentuate boho vibes and bring about a hippie glam look.
In this guide we will talk about the designs and patterns of 70's area rugs, materials, and décor ideas.
70's Rug Patterns, Designs, and Colors
Bluesy patterns, technicolor details, cheerful colors, inspirational designs, and a touch of vintage and retro class are the main elements of 70's inspired rugs.
In addition, many 70's area rugs embellish a bohemian or hippie look through their repetitive or even cluttered designs.
The core of the 70's rug design detail lies in a sense of freedom and self expression. This design can be in whatever pattern or color that may be.
A return to nature has also been noted through the earthly tones combined with bold bright colors such as orange and yellow.
The most common patterns and designs identified in 70's inspired rugs are geometric patterns, curvy shapes, random designs, and plain block colors.
Here is what each one looks like:
70's Area Rugs in Geometric Patterns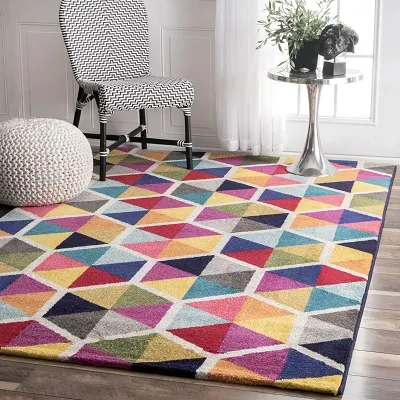 Geometric patterns are quite common in rugs. They accentuate the lines of interior decors and can relate to many furniture pieces in a room. In 70's rugs, these geometric patterns can have both sharp edges as well as curved ones.
In addition, 70's pattern rugs can be both symmetrical in showing a repetitive pattern or display a single design, like a piece of modern art.
Symmetrical and repetitive patterns are more so identified with a vintage style, especially when the pattern is in white or black over a colored background. Other repetitive patterns in black over a white or pale background gain a bohemian feel.
The rugs that display one single design are retro. Retro 70's area rugs consist of a polished design with a slightly modern edge to it.
70's Area Rugs in Curvy Shapes
Curvy shapes and patterns, also defined as mid-century modern elements, immediately scream funky 70's.
These 70's rug patterns are quite carefree and eccentric. You can use them to make any room look overly decorated and detailed, like the 70's interior design style itself.
70's Area Rugs in Random Designs
Since the 70's are known for their freedom of artistic expression, many of these rugs display random designs that pull inspiration from nature or socio-economical events of that period.
These rugs can display anything from floral patterns, art-deco motifs, abstract swirl, or even plain block colors.
70's Area Rugs Colors
Color is a crucial thing in rugs, and especially 70's area rugs. The 70's are characterized by a post-modern color palette. This palette consists of earthly tones combined with vibrant shades such as yellow, orange, turquoise, and green. Other popular colors are also red and brown.
These colorful rugs are mainly inserted in living rooms or bedrooms surrounded by wooden furniture or just plain white rooms. They are used not only to make the space feel warmer but also more comfortable.
70's area rugs can also come in monochromatic black and white. These rugs are used in crowded rooms in order to add some sense of elegance and balance. Typically black and white 70's rugs are matched with bright colored pillows or throw blankets.
Black and white 70's rugs with a white background and thin black lines are used to create a bohemian look. They are usually surrounded by broad leaves plants, and plenty of sunlight.
Color Combinations of 70's Area Rugs
The most common color combination of 70's inspired rugs is yellow and white. Other combinations include yellow and white, green and blue, pink and green, red and black, black and white and pink and purple.
70's Area Rug Materials
Shag rugs in wool are the most common 70's inspired rugs. Shag rugs are fluffy high pile rugs. Some low pile or flat weave versions however are also present. These rugs are made of wool as well as cotton, synthetic options, and a blend of all of these.
70's Wool Area Rugs
Wool was the predominant material used in rug making in the 70's. It actually continues to be the most common material in 70's inspired rugs even nowadays.
These rugs are warm and plush. They and provide a nice contrast with the strong modern lines of contemporary living rooms and bedrooms.
Flat-woven wool rugs or low pile rugs are also designed with the 70's style in mind like the Nickel Edison Area Rug. This rug is perfect over hardwood floors and surrounded by shiny furniture.
70's Cotton Area Rugs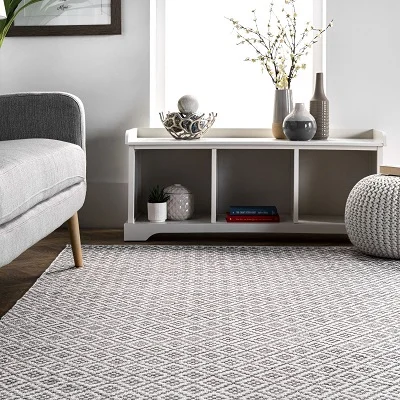 Cotton area rugs are typically low pile and retro. They encapsulate the finesse of mid-century modern design and provide additional comfort to the room.
These rugs are considered more low key than wool rugs and are mostly used in bedrooms. They come in a variety of patterns and designs which can be matched with pillows or 70's bedspreads to create a glamorous look.
70's Synthetic Area Rugs
Like most are rugs, the most common 70's inspired synthetic area rugs are made of polypropylene. These rugs are durable, shag, soft, and affordable. They come in all patterns and design characteristics of 70's rugs and can be used in any room of the house, even laundry rooms or bathrooms (see our guides).
70's Blended Area Rugs
Blending different types of materials allows for the rug to maintain the properties of each fiber and become more resistant and less expensive. The most common blends for 70's inspired rugs are wool, cotton, and polyester, wool and cotton, wool and polypropylene, and cotton and jute.
70's Inspired Rug Décor Ideas
People seem to have different opinions when it comes to the 70's style. Some consider this a decade of over the top designs and very expressive decors. While others see them as a period of cluttered rooms with no sense of style.
Both parties agree on one point however, the 70's feature expressive and cheerful interiors that are not only fun to be immersed into but also quite comfortable to live in.
Rugs play a very important role in this whole ensemble, by becoming focal points and creating that added level of warmth and charm.
Here are some ways how you can use 70's inspired area rugs to create a well balanced interior that is anything but outdated.
Orange Themes 70's Living Room
|
The 70's has not been a prosperous decade as many people lost their jobs due to the oil shortage. As a result, homes became smaller and felt more cluttered.
The 70's design movement however embraced this feature. It has been characterized by small open spaces flowing into one another ever since.
As a result, any small space can be decorated perfectly through the 70's style, such as the one in the picture. This small living room and dining room uses a plain and minimalistic color palette that is brought to life through the bold bright orange shades.
The round shag rug pulls the furniture together and provides some balance through the muted beige color. It is indeed its plain design that allows this room to seem contemporary and elegant, despite its size.
In addition, a much-needed contrast is created between the plush character of the rug and the shiny surfaces that surround it.
The combination of the round rug and the round dining table creates a functional space that seems very comfortable and chic.
Timeless Appeal 70's Interior
|
Interior design in the 70's included a lot of patterns and colors that made the room exciting.
Nowadays, these many features can create clutter and confusion, and make the space look outdated and ultimately dull. So how can you avoid this and create a timeless 70's inspired living room?
As the image shows, you can have a timeless appeal in a 70's interior by keeping a clear color palette of 4 colors and using a muted area rug within a mostly white interior.
The shag rug in this image creates a contrast between the gold frames of the furniture and the elegant mid-century pieces that surround it.
You can also see the furniture frames immersed into the fibers of the rug. This small detail shows that you can be comfortable and appreciative of this room, instead of just admiring it from a magazine cover.
The large area rug makes the room feel more comfortable through the high pile, and the subconscious hippie vibe. A fluffy pillow matches its character to create a link between the couch and the floor. This is a good way how to splash the 70's look in all directions.
Colorful and Cheerful 70's Living Room
|
Bold colors and reflective surfaces mixing amongst one another have been a way for 70's decorators to express themselves. This practice has found use in rugs too.
Area rugs have become a proper canvas for designers to show their creative and artistic soul.
This colorful and cheerful living room has a classic 70's look, full of bright colors with yellow being the most dominant one. It is playful and free, without becoming too cheesy thanks to the white walls and the predominant cream color of the rug.
In addition, the low pile character of the rug allows the room to look more fancy and chic rather than hippie or bohemian.
In general, this living room is stylish but also funky. It provides a good balance between the hippie character of the 70's and the more mature and refined look of mid-century modern design.
Seamless Pale 70's Inspired Area Rug
|
If you like the furniture of the 70's but not the whole over the top scene, then this is probably the right move for you.
Pick a large low pile of even flat woven area rug to cover the floor and mimic a carpet, and you will get a 70's Japanese Zen looking interior.
The best thing about this rug is that it goes almost unnoticed while providing many benefits such as warmth and comfort. It pulls the furniture together and allows the wood to be the main feature of the room without overwhelming the design.
Hippie Bohemian 70's Interior
|
As a simple rule of thumb, the higher the pile, the more 'bohemian' the 70's living room will look.
In this case the bright and colorful room provides a hippie bohemian character through the bold red shag rug.
In addition, the numerous plants that seem to be infiltrating the space through the large windows also add to its appeal. The entire living room seems comfortable and carefree.
The designer seems to have embraced the messiness of the space by accentuating it through the texture and pattern of the rug. The design of the rug displays a messy look where some parts have a higher pile while others do not.
The rug also matches the pillows and throw blankets, creating an utterly comfortable family room for everyone to enjoy.
Layered Retro 70's Rug Living Room
|
Layering is always a good choice when you have a large living room. Learn how to layer rugs here.
The top layered retro rug is also the only piece in the room that provides a hint of 70's charm to this contemporary interior. It adds character to the room and infuses some playfulness by providing the only pattern in a balanced and muted room.